NUMBER: 07-001-15
GROUP: Cooling
DATE: January 07, 2015
THIS BULLETIN SUPERSEDES TECHNICAL SERVICE BULLETIN 07-004-14, DATED DECEMBER 17, 2014, WHICH SHOULD BE REMOVED FROM YOUR FILES. ALL REVISIONS ARE HIGHLIGHTED WITH **ASTERISKS** WHICH INCLUDES UPDATING THE VEHICLE MODEL YEAR.
THIS SERVICE BULLETIN IS ALSO BEING RELEASED AS RAPID RESPONSE TRANSMITTAL (RRT) 14-103. ALL APPLICABLE SOLD AND UN-SOLD RRT VIN's HAVE BEEN LOADED. TO VERIFY THAT THIS RRT SERVICE ACTION IS APPLICABLE TO THE VEHICLE, USE VIP OR PERFORM A VIN SEARCH IN TECHCONNECT. ALL REPAIRS ARE REIMBURSABLE WITHIN THE PROVISIONS OF WARRANTY.
SUBJECT:
Coolant Bottle Recovery Hose Improperly Attached
OVERVIEW:
Check the tie strap for the coolant bottle recovery hose and replace if required.
MODELS:
NOTE: This bulletin applies to vehicles built on or after September 07, 2014 (MDH 0907XX) and on or before September 08, 2014 (MDH 0908XX).
SYMPTOM/CONDITION:
Coolant bottle recovery hose may not be properly attached.
DIAGNOSIS:
If a customer's VIN is listed in VIP or your RRT VIN list, perform the repair.
PARTS REQUIRED:
| | | |
| --- | --- | --- |
| Qty. | Part No. | Description |
| 1 (AR) | 04641780 | Tie Strap |
REPAIR PROCEDURE:
Check if the tie strap that holds the hose for the recovery bottle is properly attached.
The tie strap may be installed backwards with the rough side facing outward, see (Fig. 1).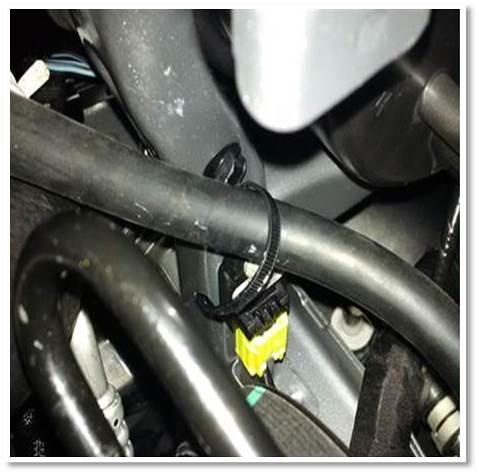 Fig. 1 Location Of The Tie Strap
On a support bracket, right front.
Is the tie strap properly attached?

Yes >>> This bulletin has been completed, use LOP (07-30-45-92) to close theactive RRT.
No >>> Replace the tie strap and properly attach the hose.

This bulletin has been completed, return the vehicle back to stock or to the customer.
POLICY:
Reimbursable within the provisions of the warranty.
TIME ALLOWANCE:
| | | | |
| --- | --- | --- | --- |
| Labor Operation No: | Description | Skill Category | Amount |
| 07-30-45-92 | Tie Strap, Inspect and/or Replace (0 – Introduction) | 8 – Engine Performance | 0.2Hrs. |
FAILURE CODE:
07-001-15