NUMBER: 23-032-15
GROUP: Body
DATE: August 21, 2015
THIS SERVICE BULLETIN IS ALSO BEING RELEASED AS RAPID RESPONSE TRANSMITTAL (RRT) 15-087. ALL APPLICABLE SOLD AND UN-SOLD RRT VIN's HAVE BEEN LOADED. TO VERIFY THAT THIS RRT SERVICE ACTION IS APPLICABLE TO THE VEHICLE, USE VIP OR PERFORM A VIN SEARCH IN TECHCONNECT. ALL REPAIRS ARE REIMBURSABLE WITHIN THE PROVISIONS OF WARRANTY.
SUBJECT:
Front Door Latch Striker Dragging And/Or High Door Closing Effort
OVERVIEW:
This bulletin involves adjusting the front door latch striker.
MODELS:
NOTE: This bulletin applies to vehicles within the following markets/countries:
NAFTA, LATAM, EMEA, APAC
NOTE: This bulletin applies to vehicles built on or after September 30, 2014 (MDH 0930XX) and on or before February 01, 2015 (MDH 0201XX).
SYMPTOM/CONDITION:
The customer may describe one or both front door latches dragging on the door strikers and/or higher than expected door closing effort.
DIAGNOSIS:
If a customer's VIN is listed in VIP or your RRT VIN list, perform the repair. For all other customers that describe the symptom/condition listed above or if the technician finds the condition during Pre Delivery Inspection (PDI), perform the Repair Procedure.
REPAIR PROCEDURE:
Open and close both right and left front doors while feeling for the door latch dragging on the door striker.
Is the door latch dragging on the door striker?

YES>>> Continue with the Repair Procedure Step #3.
NO>>> This bulletin has been completed, use LOP (23-41-04-97) to close the active RRT.

Using a grease pencil or equivalent, mark the installed position of the door latch striker (3) in relationship to the B-pillar (1) (Fig. 1).
Loosen the two screws (4) that secure the latch striker (3) to the B-pillar (1) (Fig. 1).
NOTE: The striker is a deformable attachment design, a dead blow hammer may be required for striker position adjustment.
Adjust the latch striker (3) to the center of the latch. Tighten the screws (4) to 28 N·m (21 ft. lbs.) (Fig. 1).
Verify proper door fit and operation. Refer to the gap and flush specifications available in DealerCONNECT> TechCONNECT under: Service Info> 23 – Body> Body Structure> Gap and Flush> Specifications.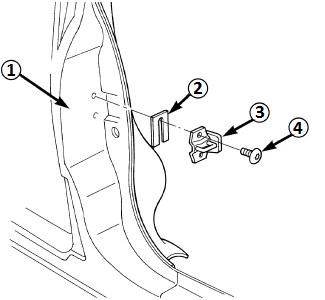 Fig. 1 Front Door Latch Striker
1 – B-Pillar
2 – Shims
3 – Striker
4 – Screws
---
POLICY:
Reimbursable within the provisions of the warranty.
TIME ALLOWANCE:
| | | | |
| --- | --- | --- | --- |
| Labor Operation No: | Description | Skill Category | Amount |
| 23-41-04-97 | Inspect Left and Right Front Door Closing Effort (0 – Introduction) | 6 – Electrical and Body Systems | 0.0 Hrs. |
| 23-41-04-98 | Inspect and Adjust One Front Door Striker and Verify Gap Flushness (0 – Introduction) | 6 – Electrical and Body Systems | 0.2 Hrs. |
| 23-41-04-99 | Inspect and Adjust Both Front Door Strikers and Verify Gap Flushness (0 – Introduction) | 6 – Electrical and Body Systems | 0.3 Hrs. |
FAILURE CODE:
---
https://static.nhtsa.gov/odi/tsbs/2015/SB-10058732-9868.pdf
23-032-15

---