NUMBER: 23-012-16
GROUP: Body
DATE: March 05, 2016
SUBJECT:
Magnesium Inner Liftgate Repair And Appearance Characteristics
OVERVIEW:
This bulletin involves discussing magnesium inner liftgate repair warnings and appearance characteristics.
MODELS:
NOTE: This bulletin applies to vehicles within the following markets/countries: NAFTA, LATAM, APAC, and EMEA.
WARNING: There are necessary safety factors to follow when working with components made of magnesium and components made of a combination of materials utilizing magnesium. Failure to follow these instructions may cause serious injury or death.
Do not grind on the component. The grinding residue is highly combustible.
In the event of a fire, a D-class rated fire extinguisher is necessary to extinguish.
Do not expose the component to open flame or temperature in excess of 260 °C (500 °F).
WARNING: Due to the usage of magnesium; do not attempt to repair the inner liftgate panel. The inner liftgate panel is a combination of magnesium and aluminum alloys. The use of this type of material in this application requires unique guidelines that must be adhered to.
APPEARANCE:
The textured finish differs from a smooth finish typically found on closure panels.
The texture is produced from the casting of the component as compared to smooth stamped sheet metal.
This finish is completely normal and acceptable.
Do not remove the textured finish to produce a smooth finished appearance.
WORKABILITY:
To prevent creating magnesium residue, do not grind the material.
Do not make any repairs to inner liftgate panel other than for refinishing purposes.
Any sanding of the component is to be done with a sanding pad only, such as a Scotch-Brite pad or equivalent.
Refinish per paint manufacturer's recommendations.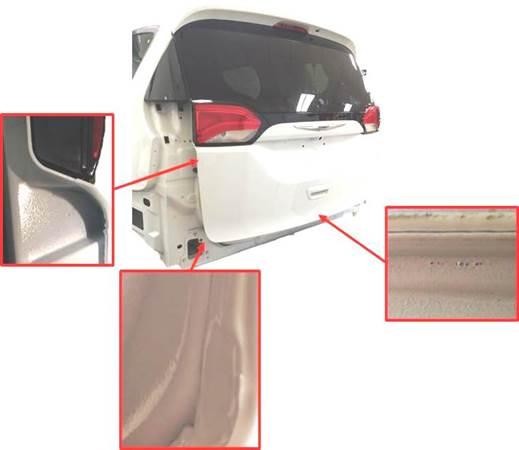 Fig. 1 Inner Liftgate Paint Appearance
POLICY:
Information Only.
---
---
NUMBER: 23-012-16
GROUP: Body
DATE: March 05, 2016
https://www.nhtsa.gov/recalls?nhtsaId=10140239
https://static.nhtsa.gov/odi/tsbs/2016/MC-10140239-9999.pdf
---
Bestseller No. 1
Chemical Guys WAC_201_16 Butter Wet Wax (16 oz)
100 percent carnauba-based wax
New formulation for even easier application
Deep wet look to any paintwork
Improved level of protection.Date on item is manufactured date
More UVA and UVB protection
Sale
Bestseller No. 2
Meguiar's G19220 Ultimate Polish, 20 oz
PREPS SURFACE: Pre-waxing glaze that prepares the surface for wax while offering deep reflections and high gloss
BEST CAR GLOSS: Conditioning oils add depth of color and maximum gloss prior to waxing, especially on dark colored cars
REMOVE SWIRLS: Quickly and gently removes fine swirls and towel marks for mirror-like reflections
SAFE FOR CLEAR COATS: Safe and on all glossy paints, including clear coats
FLEXIBLE APPLICATION: Safe and effective by hand or dual action polisher like Meguiar's MT300 Dual Action Polisher
Sale
Bestseller No. 3
Shine Armor Fortify Quick Coat - Ceramic Coating - Car Wax Spray - Waterless Car Wash & Wax - Hydrophobic Top Coat Polish & Polymer Paint Sealant Protection
ADVANCED FORMULA 3 IN 1. Our fortify quick coat is your all in one ceramic coating hydrophobic spray. Shine Armor Fortify Quick Coat car wax provides a waterless wash, coat and shine, all in one convenient product.
NO STREAKING, SMEARING OR SCRATCHING. Shine Armor Fortify Quick Coat premium formula ceramic car coating is a gentle and effective car polish for any vehicle! Get a clean, shiny finish without hurting your car's paint.
CUTS DIRT, GRIME & GREASE. Our Quick Coat ceramic wax car sealant eliminates dirt, grime & grease instantly! Our signature 3-in-1 formula gives you a waterless car wash, coat and shine for a clean, showcase look.
SAFE FOR ALL SURFACES. Use this car wax spray on automobiles, boats, motorbikes, RVs, four wheelers and more! This spray wax is the perfect blend of surfactants and SiO2 ceramic-coating science.
100% MONEY-BACK GUARANTEE. We are confident you will love our FORTIFY QUICK COAT ceramic wax for cars, we offer a 30-day money-back guarantee! CLICK "Add to Cart" NOW, ZERO RISK!
Bestseller No. 4
Bestseller No. 5
Chemical Guys TVD_109_16 - Silk Shine Sprayable Dry-To-The-Touch Dressing For Tires, Trim, Vinyl, Plastic and More (16 oz)
DURABLE HIGH-SHINE FINISH: Sprayable dry-to-the-touch non-greasy dressing works on interior and exterior vinyl, rubber, plastics, tires and dashboard surfaces to restore original OEM look that will not attract dirt or dust
PROTECT AGAINST FADING: Ultra-refined Weather-Tek formula penetrates deep to nourish and protect like-new appearance that lasts for weeks, not days. Sun blockers shield from harmful UV rays that fade, crack and break vinyl, rubber, and plastic parts
NON-GREASY WATER-BASED FORMULA: Achieve a non-greasy long lasting dry-to-the-touch deep wet look on both interior and exterior vinyl, rubber, plastic and tires with this water-based dressing. Quick and easy application lasts for weeks, not days
THE #1 BRAND IN CAR CARE: Beginners and professionals alike choose Chemical Guys, not only for the finest car care products, but the world class customer support and vast detailing knowledge. Chemical Guys is more than a brand - it's a lifestyle with a worldwide following
SATISFACTION GUARANTEED: Our customers love our products. We love our products, and we want to make sure you love them too
Sale
Bestseller No. 6
MEGUIAR'S G18216 Ultimate Liquid Wax, 16 Fluid Ounces, 1 Pack
ONE EASY STEP: Formula delivers maximum synthetic protection, durability, depth of color, and reflectivity in this easy one step
EFFORTLESS APPLICATION: Thin Film technology provides for easy application and wipe off even in full sun, and will not stain non-painted trim pieces white
LONG-LASTING PROTECTION: Advanced synthetic polymers crosslink to form a long-lasting protective barrier while amplifying reflection for incredible depth and mirror-like shine
WATER ROLLS RIGHT OFF PAINT: Hydrophobic Polymer technology increases surface tension to protect paint
SAFE AND FLEXIBLE: Safe and effective on all glossy paints and clear coats, and can be applied by hand or dual action variable speed polisher like Meguiar's MT300 Dual Action Polisher
Bestseller No. 7
Shine Armor Revive Scratch Swirl Remover & Repair - Paint Remover for Marks, Scuff, Blemish, Scratch Removal - Water Spots, Hairline Polish Car Care Auto Detail Restorer
OXIDATION, SCRATCH & SWIRL REMOVER - Get rid of damages to your vehicle without hurting the paint! No need to pay high prices to get these repairs fixed! Easy, convenient bottle & application process you can do at home!
DETAIL GRADE COMPOUNDS - Shine Armor brings high-end detail grade products directly to you! Save money & time with our Revive Scratch Repair. It is EASY, QUICK & SAFE to apply to any car.
PREMIUM PAINT RESTORER - Restore the shine & sparkle to your paint while treating unwanted scratches & swirls! Treats water spots, oxidations & many other contaminants that ruin your paint!
REVOLUTIONARY FORMULA - Revive Scratch Repair contains NO FILLERS OR WAXES. Remove oxidation, scratches & Swirls without damaging the paint! It even creates little to no dusting!
GET SHINE ARMOR REVIVE SCRATCH REPAIR RISK FREE: 100% MONEY-BACK GUARANTEE - We are confident you will love our REVIVE SCRATCH REPAIR, we offer a 30-day money-back guarantee! CLICK "Add to Cart" NOW, ZERO RISK!
Sale
Bestseller No. 8
Sale
Bestseller No. 9
Shine Armor Car Wax Hydrophobic Spray - Spray Wax for Car with Carnauba Wax - Car Polish and Car Shine Spray - Spray Wax Car Sealant and Paint Protection - Fast Acting Car Wax Spray
FORMULATED USING ADVANCED SCIENCE. Don't settle for an average ceramic car wax, our car wax spray is formulated using advanced science, with Brazilian Carnauba Wax to seal and polish and give your car a brilliant, protective shine.
STREAK FREE & SAFE FOR ALL SURFACES. Shine Armor car wax is a superior car polish that won't leave streaks or residue behind, this hydrophobic spray wipes away clean to give your car ultimate shine.
QUICK & CONVENIENT. Our spray wax for car is a convenient and quick way to give your car ultimate car paint protection. Simply spray on this car sealant and easily wipe it off for a showroom shine that will impress your neighbors.
BRILLIANT SHINE. This quick and easy spray wax uses advanced technology to make your car look better than good. Our car shine spray is easy to apply and works at a nano level to enhance gloss and reflection and give your car a head-turning, brilliant shine.
GET SHINE ARMOR CAR WAX QUICK COAT RISK FREE: 100% MONEY-BACK GUARANTEE - We are confident you will love our Shine Armor CAR WAX QUICK COAT, we offer a 30-day money-back guarantee! CLICK "Add to Cart" NOW, ZERO RISK!
Bestseller No. 10
Meguiar's G7101FFP Gold Class Car Wash - 1 gallon
ONLY ONE STEP: Designed to both clean and condition your car in one easy step
ADVANCED FORMULA: Cleans without stripping wax protection
THE BEST CLEAN: Foams away tough dirt, road grime and contaminants
RADIANT LOOK: Contains ultra-rich conditioners to make your paint look its best
FOAM CANNON READY: Diverse application allows it to be used in a bucket or in a foam cannon. *Dilute 5:1 when used with a foam cannon.
Last update on 2019-07-16 / Affiliate links / Images from Amazon Product Advertising API
Last update on 2019-07-16 / Affiliate links / Images from Amazon Product Advertising API