NUMBER: 23-041-17
GROUP: 23 - Body
DATE: September 2, 2017
NOTE: THIS SERVICE BULLETIN IS ALSO BEING RELEASED AS RAPID RESPONSE TRANSMITTAL (RRT) 17-084. ALL APPLICABLE SOLD AND UN-SOLD RRT VIN's HAVE BEEN LOADED. TO VERIFY THAT THIS RRT SERVICE ACTION IS APPLICABLE TO THE VEHICLE, USE VIP OR PERFORM A VIN SEARCH IN TECHCONNECT. ALL REPAIRS ARE REIMBURSABLE WITHIN THE PROVISIONS OF WARRANTY.
SUBJECT:
Incorrect Hellcat Emblem on Front Fenders
OVERVIEW:
This bulletin involves replacing the Hellcat emblem on both front fenders, due to an adhesion process change (Fig. 1) .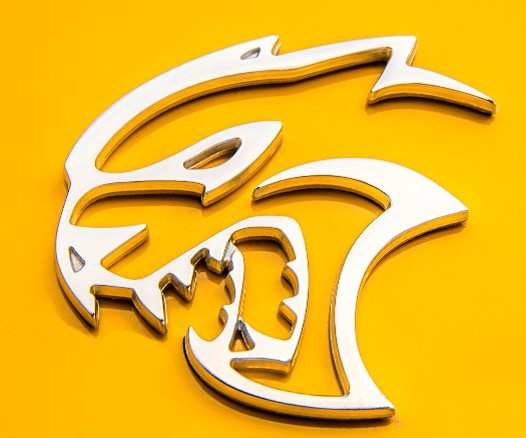 Fig. 1
Current Emblem Being Replaced
MODELS:
NOTE: This bulletin applies to vehicles within the following markets/countries: NAFTA.
NOTE: This bulletin applies to vehicles built on or after July 25, 2017 (MDH 0725XX) and on or before August 04, 2017 (MDH 0804XX) equipped with SRT Hellcat Exterior Badges (Sales Code MVF).
SYMPTOM/CONDITION:
Some of the Hellcat emblems on the front fender of the vehicle may have been installed incorrectly at the factory.
DIAGNOSIS:
If a customer's VIN is listed in VIP or your RRT VIN list, perform the repair. This RRT only applies to vehicles on the RRT VIN list.
PARTS REQUIRED:
| Qty. | Description | Part No. |
| --- | --- | --- |
| 1 | Badge, Hellcat Fender Right | 68269896AA |
| 1 | Badge, Hellcat Fender Left | 68269897AA |
REPAIR PROCEDURE:
NOTE: The correct replacement Hellcat emblems (Fig. 2) will be different than the current emblems being replaced on the vehicle.
NOTE: The exterior emblems are attached to the body with adhesive tape.
Apply a length of masking tape on the body, parallel to the top edge of the emblem to use as a guide.
If temperature is below 21°C (70°F), warm emblem with a heat lamp or gun.
CAUTION! Do not exceed 52° C (120° F) when heating emblems or body panels. Failure to follow this caution may result in damage to the emblems and/or the vehicle paint finish.
Using a trim stick or equivalent, carefully remove the emblem from the body panel, as necessary.
Thoroughly clean all residue from the emblem attachment areas of the body.
Wipe the attachment areas with a clean, lint-free cloth, moistened with a 50% solution of water and alcohol, Wipe dry the areas immediately with a dry, lint-free cloth.
NOTE: If ambient temperatures are below 21° C (70° F), warm the emblem and body panel with a heat lamp or gun to assure proper adhesion.
Remove the protective covering from the back of the emblem and position onto the body using the previously installed guide tape.
Press emblem firmly to body with palm of hand.
Remove the guide tape.
POLICY:
Reimbursable within the provisions of the warranty.
TIME ALLOWANCE:
| Labor Operation No: | Description | Skill Category | Amount |
| --- | --- | --- | --- |
| 23-03-08-9L | Nameplate "Hellcat" Emblem, Replace both sides (0 - Introduction) | 6 - Electrical and Body Systems | 0.3 Hrs. |
FAILURE CODE:
---
NUMBER: 2304117
GROUP: 23 Body
DATE: September 2, 2017
https://www.nhtsa.gov/recalls?nhtsaId=10121778
https://static.nhtsa.gov/odi/tsbs/2017/MC-10121778-9999.pdf
---
Sale
Bestseller No. 1
Mothers 07240 California Gold Clay Bar System
Removes embedded grains of metal, tree sap, airborne environmental deposits and paint overspray
More pliable and not as stiff as other clays; Safe to use on all types of paint, including clearcoats
Regular use provides a long lasting benefit to your vehicle
Adds depth and clarity and leaves paint feeling silky smooth
Kit includes: (2) 100 gram Clay Bars, (1) 16 oz. Mothers California Gold Instant Detailer and (1) 16" x 16" Microfiber Towel
Sale
Bestseller No. 2
MEGUIAR'S G18216 Ultimate Liquid Wax, 16 Fluid Ounces, 1 Pack
ONE EASY STEP: Formula delivers maximum synthetic protection, durability, depth of color, and reflectivity in this easy one step
EFFORTLESS APPLICATION: Thin Film technology provides for easy application and wipe off even in full sun, and will not stain non-painted trim pieces white
LONG-LASTING PROTECTION: Advanced synthetic polymers crosslink to form a long-lasting protective barrier while amplifying reflection for incredible depth and mirror-like shine
WATER ROLLS RIGHT OFF PAINT: Hydrophobic Polymer technology increases surface tension to protect paint
SAFE AND FLEXIBLE: Safe and effective on all glossy paints and clear coats, and can be applied by hand or dual action variable speed polisher like Meguiar's MT300 Dual Action Polisher
Sale
Bestseller No. 3
Chemical Guys TVD_109_16 - Silk Shine Sprayable Dry-To-The-Touch Dressing For Tires, Trim, Vinyl, Plastic and More (16 oz)
DURABLE HIGH SHINE FINISH: Sprayable dry to the touch non greasy dressing works on interior and exterior vinyl, rubber, plastics, tires and dashboard surfaces to restore original OEM look that will not attract dirt or dust
PROTECT AGAINST FADING: Ultra refined Weather Tek formula penetrates deep to nourish and protect like new appearance that lasts for weeks, not days. Sun blockers shield from harmful UV rays that fade, crack and break vinyl, rubber, and plastic parts
NON GREASY WATER BASED FORMULA: Achieve a non greasy long lasting dry to the touch deep wet look on both interior and exterior vinyl, rubber, plastic and tires with this water based dressing. Quick and easy application lasts for weeks, not days
THE #1 BRAND IN CAR CARE: Beginners and professionals alike choose Chemical Guys, not only for the finest car care products, but the world class customer support and vast detailing knowledge. Chemical Guys is more than a brand it's a lifestyle with a worldwide following
SATISFACTION GUARANTEED: Our customers love our products. We love our products, and we want to make sure you love them too
Sale
Bestseller No. 4
Bestseller No. 5
Brasso Metal Polish, 8 oz Bottle for Brass, Copper, Stainless, Chrome, Aluminum, Pewter & Bronze, 8 oz
Cleans & polishes a variety of metals
Provides long-lasting smooth & polished surface
Provides brilliant shine
Multi-purpose metal polish for: brass, copper, stainless steel, chrome, aluminum, pewter, and bronze
Great to use on: car rims, stainless refrigerators/ovens/toasters/dishwashers, faucets, metal kitchenware and metal furniture
Sale
Bestseller No. 6
MEGUIAR'S G3626 Ultimate Waterless Wash & Wax, 26 Fluid Ounces
ONE EASY STEP: Premium formula conveniently and gently washes and adds wax protection in one easy step. Can be used anywhere with no hose, bucket, or rinsing
WATER SPOT-FREE: Advanced chemistry contains a water spot-free formula coupled with a high-lubricity that protects the surface against swirling and scratching as it gently cleans
LONG-LASTING BARRIER: Advanced polymer chemistry leaves behind a glossy, synthetic wax barrier that lasts weeks
SAFE FOR GLOSSY PAINTS: Is safe and effective on all glossy paints and clear coat finishes, glass, chrome, polished metals, and plastic trim.
NO EQUIPMENT NEEDED: Ideal for those who do not have access to a hose, live in a city, or apartment, or are under water restrictions
Bestseller No. 7
Chemical Guys WAC_201_16 Butter Wet Wax (16 oz)
100 percent carnauba based wax
New formulation for even easier application
Deep wet look to any paintwork
Improved level of protection.Date on item is manufactured date
More UVA and UVB protection
Sale
Bestseller No. 8
Simichrome 390050 All Metal Polish Tube - 1.76 oz.
Used by professionals for years, Simichrome does a beautiful job of removing surface rust from chrome, polishing aluminum until it looks like new, even sprucing up delicate, heirloom family silver without leaving scratches or abrasive marks
Its unique, finely mixed formula produces a rich, brilliant shine on any uncoated, non-ferrous, metal surface including, brass, gold, silver, aluminum, magnesium, pewter, chrome, sterling, copper and stainless steel
In as little as 30 seconds, you can watch a small, faded item go from dull, oxidized metal to a having a perfect mirror finish
In addition to restoring the original luster, Simichrome also leaves an invisible, protective coating to prevent further tarnishing and help keep the shine much longer
A solid favorite for home, industry, auto, motorcycle and antique users, Simichrome is the fastest, most effective metal polishing and cleaning agent in the industry today
Bestseller No. 9
Meguiar's G7101FFP Gold Class Car Wash - 1 gallon
ONLY ONE STEP: Designed to both clean and condition your car in one easy step
ADVANCED FORMULA: Cleans without stripping wax protection
THE BEST CLEAN: Foams away tough dirt, road grime and contaminants
RADIANT LOOK: Contains ultra-rich conditioners to make your paint look its best
FOAM CANNON READY: Diverse application allows it to be used in a bucket or in a foam cannon. *Dilute 5:1 when used with a foam cannon.
Sale
Bestseller No. 10
Last update on 2019-08-06 / Affiliate links / Images from Amazon Product Advertising API
Last update on 2019-08-06 / Affiliate links / Images from Amazon Product Advertising API