NUMBER: 23-010-15
GROUP: Body
DATE: March 18, 2015
SUBJECT:
Removal Of Challenger SRT Hellcat Front Air Dam Shipping Covers
OVERVIEW:
This bulletin involves removing the front air dam shipping covers.
MODELS:
NOTE: This bulletin applies to SRT Hellcat vehicles equipped with 6.2L V8 Supercharged Engine (sales code ESD).
SYMPTOM/CONDITION:
Bright yellow shipping covers (1) have been added during vehicle production to prevent/lessen damage to the front fascia air dam during vehicle transport (Fig. 1).
If the bright yellow shipping covers are not installed on the front fascia air dam (2) (Fig. 1), this bulletin does not apply. No action is required.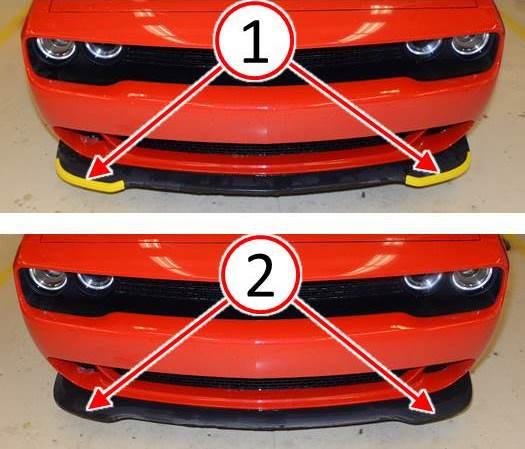 Fig. 1 Inspect Front Air Dam For Shipping Covers
1 – Bright Yellow Shipping Covers
2 – No Shipping Covers
---
DIAGNOSIS:
If the customer describes the symptom/condition listed above or if the technician finds the shipping covers installed on the vehicle, perform the Repair Procedure.
PARTS REQUIRED:
| | | |
| --- | --- | --- |
| Qty. | Description | Part No. |
| 4 (AR) | Fastener, Push Pin | 05116530AA |
REPAIR PROCEDURE:
Raise and support the vehicle. Refer to the detailed service procedures available in DealerCONNECT> TechCONNECT under: Service Info> 04 – Vehicle Quick Reference> Hoisting> Standard Procedure.
Shipping covers (3) may have one (1) or two (2) push pins retaining each cover, depending on installation (Fig. 2).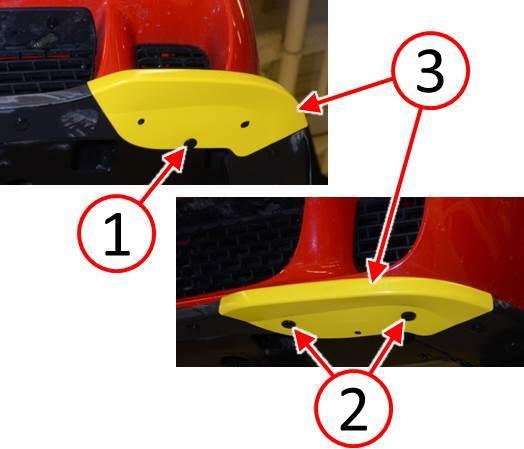 Fig. 2 Remove Front Air Dam Shipping Covers
1 – One Push Pin
2 – Two Push Pins
3 – Shipping Cover
---
NOTE: If the shipping cover (3) is retained by one (1) push pin, the push pin may be discarded and does not require replacement (Fig. 2).
If the shipping cover (3) is retained by one (1) push pin as shown in (Fig. 2):

Remove and discard the push pin (1) and the shipping cover (3) from the right and left sides of the front air dam (Fig. 2). Repair process is complete, proceed to Step #5.
NOTE: If the shipping cover (3) is retained by two (2) push pins, the push pins must be replaced with NEW push pins after removal of the shipping cover (Fig. 2).
If the shipping cover (3) is retained by two (2) push pins as shown in (Fig. 2):

Remove and discard both push pins (2) and shipping cover (3) from the right and left sides of the front air dam (Fig. 2).
Install NEW push pins into the four holes from which the shipping cover push pins were removed. Repair process is complete, proceed to Step #5.

Lower the vehicle.
POLICY:
Information Only, Reimbursable Within PDI.
---
NUMBER: 23-010-15
GROUP: Body
DATE: March 18, 2015
https://www.nhtsa.gov/recalls?nhtsaId=10144844
https://static.nhtsa.gov/odi/tsbs/2015/MC-10144844-9999.pdf
MC-10144844-9999

---
Bestseller No. 1
Bestseller No. 2
Car Polish by Nu Finish, NF-76 Liquid Polish for Cars, Trucks, 16 Fl Oz Each
Nu Finish Liquid Car Polish keeps your car exterior looking new with only one application per year.Fit Type: Universal
Delivers impressive shine and protection without rubbing or buffing
As the only polish available with no wax, the Nu Finish formula is specifically made to protect your car's paint and clear-coat finish
Perfect for use on cars, fiberglass boats, RVs, and even chrome surfaces
Apply polish with a damp cloth, let dry to a haze, and wipe off
Bestseller No. 3
Bestseller No. 4
Meguiar's M20508 Mirror Glaze Ultra Finishing Polish - 8 Oz Bottle
EXCEPTIONAL RESULTS: Advanced technology formula provides a deep gloss and rich, swirl-free results
NO MORE SWIRLS: Permanently removes swirls and light defects from all paint
STUNNING SHINE: Produces deep reflections and high gloss
EASY TO USE: Smooth buffing feel, easy wipe-off, and fast clean-up
MULTIPLE WAYS TO APPLY: Formulated for use by Hand, DA Polisher, or Rotary Buffer
Bestseller No. 5
Meguiar's Ultimate Compound, Car Compound Restores Car Paint and Car Shine - 20 Fl Oz Bottle
RESTORE CAR PAINT: One 1 pint 4 fl oz bottle of Meguiar's Ultimate Compound restores color and clarity by removing moderate oxidation, swirl marks, water spots and blemishes
IMPRESSIVE PERFORMANCE: Revolutionary formula surpasses the performance of car rubbing compound and car polishing compound tools by reducing the time and effort to obtain results
REMOVES BLEMISHES: Quickly and easily removes paint defects and maximizes car shine and gloss to prepare your paint for wax protection
EXCLUSIVE TECHNOLOGY: Micro-abrasive technology cuts as fast as other harsh abrasive auto compound products without scratching, even on clear coat finishes
VERSATILE CAR CARE: Ultimate compound can be applied by hand or by a dual action polisher for a versatile application offering
Sale
Bestseller No. 6
Carfidant Scratch and Swirl Remover - Ultimate Car Scratch Remover Compound - Auto Polish & Paint Restorer - Easily Repair Paint Scratches, Scuffs, Water Spots! Car Buffer Kit
EASY SCRATCH & SWIRL REPAIR - If your car has light scratches, swirls, or other marks - you can easily fix that with our Scratch & Swirl Remover Kit! Using the included buffer pad, our specially formulated compound will allow you to easily remove and "erase" years of wear and tear from your vehicles paint and overall appearance! (Please note if you have very deep scratches that can be easily felt with the tip of your fingernail the product may not help as much.)
ULTIMATE PAINT RESTORER - Not only will this remove swirls and scratches, it will restore the gloss and shine of your paint and bring it back to its original brilliance! The special rubbing compound will remove water spots, oxidation and other contaminants from your paint! Easily buff it all out by hand with our included buffer pad!
PREMIUM CHEMICALS - We formulate all our products to ensure they are the best! Professional grade, but easy enough for anyone to use! We use only the absolute best chemicals and ensure there are no unnecessary color dyes or scents! You get the best cutting polishing compound in a specifically formulated formula with a kit that lets you go right to work!
SAFE FOR ALL PAINT COLORS - Our Ultimate Car Paint Scratch Repair Kit is safe to use on all paints and colors. You can safely use it on any clearcoat, single stage, or multi stage paint!
MADE IN USA - CARFIDANT 100% SATISFACTION - Don't take our word that this is the best in car detailing products and car cleaning supplies, if you are not 100% satisfied we will refund you in full! We are professionals! We are enthusiasts! We spent years developing our professional automotive detailing products and believe in them 100%! We use them. Our friends use them. If you are not 100% satisfied with any of our products, we will give you a full refund! Send us a message!
Bestseller No. 7
Bestseller No. 8
Turtle Wax T-241A Polishing Compound & Scratch Remover - 10.5 oz. , White
turtle wax is the number one selling brand of car care products in the world with sales in 90 countries.
Quickly and easily penetrates through the oxidized surface to remove scratches, blemishes and stubborn stains
the company is recognized for manufacturing appearance and performance car care products for the retail consumer market and the commercial car care and professional detailing industries.
Recommended for rubbing down between coats of newly sprayed lacquer and acrylic car finishes
Polish in a cross-hatch pattern, moving in parallel and perpendicular passes across the paint.
Sale
Bestseller No. 9
Meguiar's G7016 Gold Class Carnauba Plus Premium Liquid Wax Kit - Includes 16 Oz Bottle and Applicator Pad
Gold Class premium wax with a luxurious carnauba-polymer blend gives your paint finish strong, long-lasting wax protection with a brilliant reflective shine
Special blend of carnauba wax with protecting polymers is safe and effective on clear coats and all glossy paint types
This liquid wax features an improved formula that creates an even richer shine and leaves a deeper gloss with sharp, clear reflections
Easily glides on and off with included high-quality soft foam applicator
Can be applied by hand or with DA polisher like Meguiar's MT300 Dual Action Polisher
Sale
Bestseller No. 10
Turtle Wax 53412 Hybrid Solutions Ceramic Polish and Wax - 14 Fl Oz.
Paint correct, polish, wax and protect your vehicle in one easy step, removes swirls, scratches, and oxidation with precision polishing agents
Super hydrophobic and SiO2 polymers deliver extreme water beading and chemical resistant protection that lasts for months
Hydro-activated formula increases depth of color, leaving behind a mirror-like shine and gloss
Work in small 2' x 2' sections, removing excess with a dry microfiber towel, for high shine activation, go over surface with damp microfiber towel and dry
The Hybrid Solutions collection features a sweet fruity fragrance
Last update on 2023-05-19 / Affiliate links / Images from Amazon Product Advertising API
This product was presentation was made with AAWP plugin.