June 13, 2019 NHTSA CAMPAIGN NUMBER: 19V448000
Spare Tire may not match Spare Tire Information
The driver, referencing the tire placard label, may incorrectly inflate the spare tire, increasing the risk of a crash.
NHTSA Campaign Number: 19V448
Manufacturer Chrysler (FCA US LLC)
Components TIRES
Potential Number of Units Affected 27
Summary
Chrysler (FCA US LLC) is recalling certain 2019 Ram 1500 trucks. The spare tire provided may differ in size and required inflation pressure from the information on the tire placard label. As such, these vehicles fail to comply with the requirements of Federal Motor Vehicle Safety Standard (FMVSS) number 110, "Tire Selection and Rims."
Remedy
Chrysler has notified owners, and dealers will replace the incorrect size spare tire with the correct size spare tire, free of charge. The recall began June 27, 2019. Owners may contact Chrysler customer service at 1-800-853-1403. Chrysler's number for this recall is V67.
Notes
Owners may also contact the National Highway Traffic Safety Administration Vehicle Safety Hotline at 1-888-327-4236 (TTY 1-800-424-9153), or go to www.safercar.gov.
Check if your Vehicle has a Recall
---
Revised June 2019
Dealer Service Instructions for:
Safety Recall V67 / NHTSA 19V-448 Incorrect Spare Tire
NOTE: Updated Mopar Tire Works phone number in the parts information section.
Remedy Available
NOTE:  Some vehicles above may have been identified as not involved in this recall and therefore have been excluded from this recall.
IMPORTANT:  Some of the involved vehicles may be in dealer new vehicle inventory.  Federal law requires you to complete this recall service on these vehicles before retail delivery.  Dealers should also consider this requirement to apply to used vehicle inventory and should perform this recall on vehicles in for service.  Involved vehicles can be determined by using the VIP inquiry process.
Subject
The spare tire on about 32 of the above vehicles may be equipped with a spare tire different than the spare tire size and cold inflation pressure designated on the tire placard label which does not meet the placard requirements of Federal Motor Vehicle Safety Standard ("FMVSS") 110.
Repair
Remove and replace the spare tire with the correct tire size.
Parts Information
| | |
| --- | --- |
| Description | Part Number |
| Tire, Spare Falken LT275/65R18 OWL All Terrain | 04726654AB |
| Tire, Spare Goodyear 245/70R18 110S Purpose Built | 04726681AA |
If tire replacement is required, call Mopar Tire Works at 888-403-8473 or go to DealerCONNECT / Parts Tab / Tire Order Entry and then follow the screen prompts.  Have the following information available: 
Vehicle Model and Model Year 
Tire Make, Model and Size
Parts Return
No parts return required for this campaign.
Special Tools
No special tools are required to perform this service procedure.
Service Procedure
A.  Inspect for correct spare tire
Open the driver's door and obtain the "Spare" tire size number on the label (Figure 1).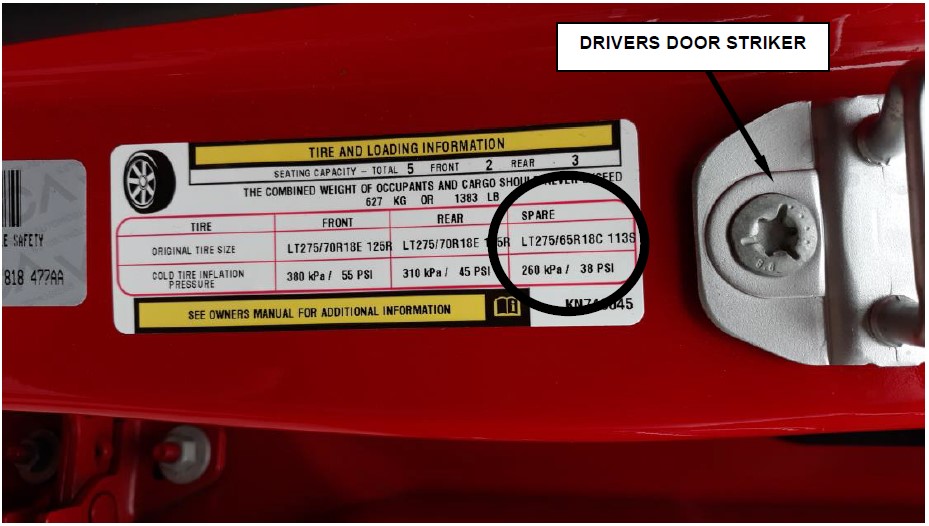 Figure 1 – Tire and Loading Information Label
Raise the vehicle and compare the spare tire size to the tire size on the label (Figure 2).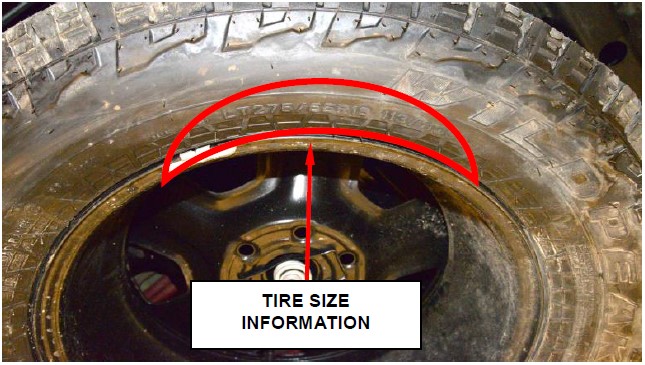 Figure 2 – Tire Size
If the spare tire and the label tire size numbers match, no additional service is needed, lower the vehicle and return it to the customer.
B.  Spare tire replacement procedure 
Remove the plastic access cover located on the side of the front passenger's seat. To remove the cover, pull the front part of the cover (closest to the front of the seat) toward you to release a locking tab. Once the front of the cover is loose, slide the cover toward the front of the seat until it is free from the seat frame, then remove cover (Figure 3).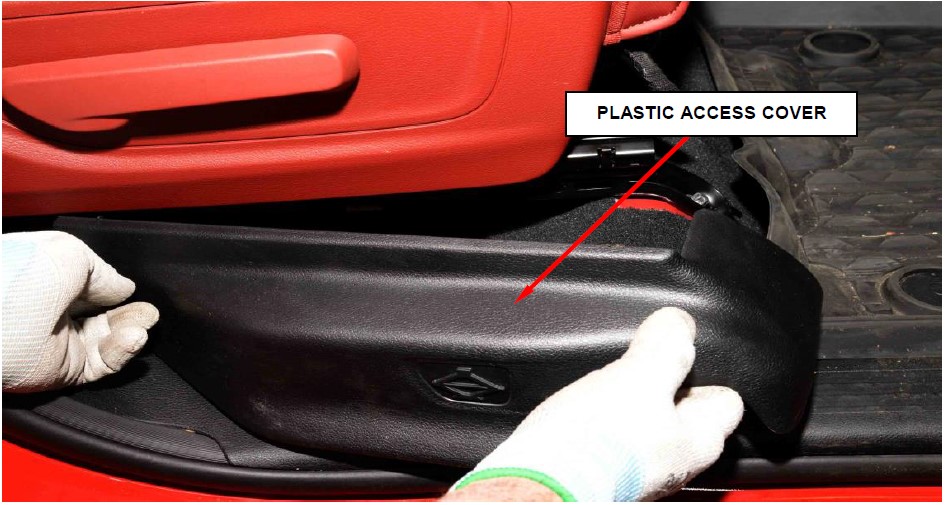 Figure 3 – Access Cover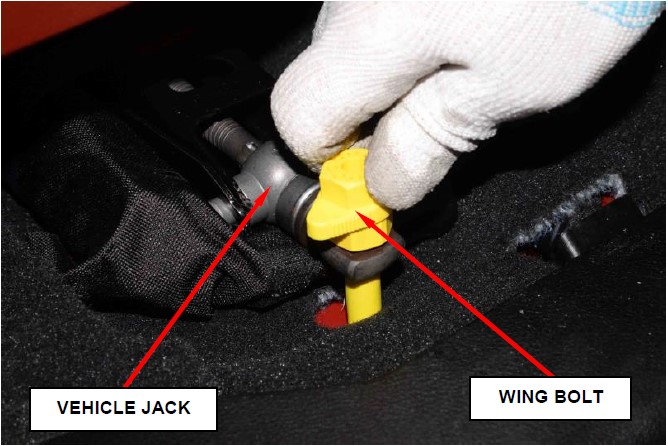 Figure 4 – Wing Bolt Removal
Release the tool bag straps from the jack and remove tools from bag (Figure 5).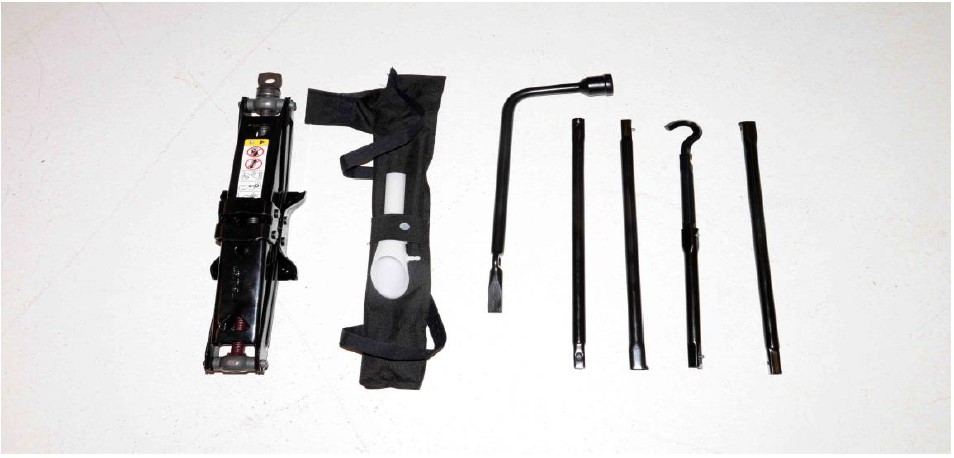 Figure 5 – Tools
Assemble the tools for lowering/raising the spare tire (Figure 6).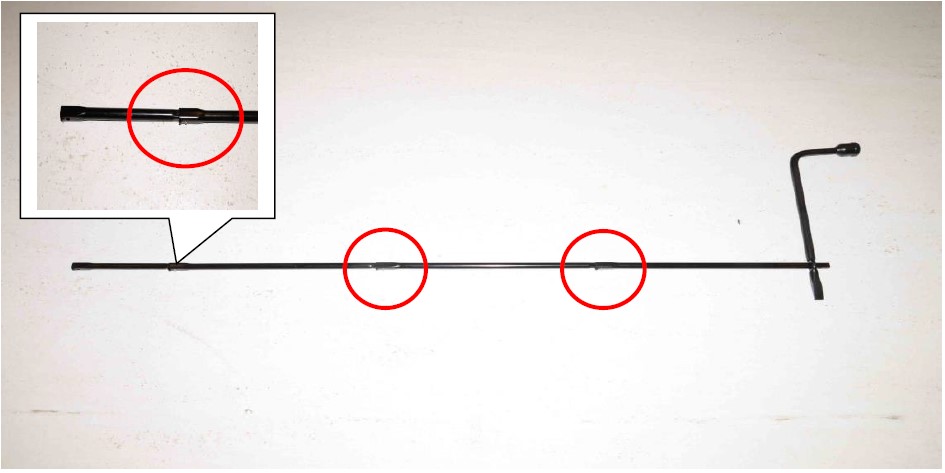 Figure 6 – Assembled Tool
Using a trim stick remove the access cover near the top right side of the rear bumper (Figure 7).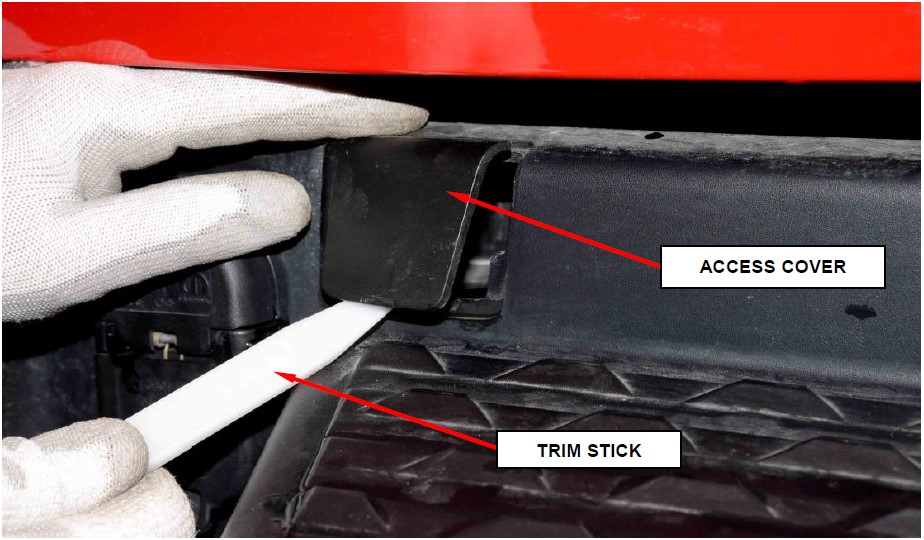 Figure 7 – Access Cover Figure 8 – Spare Tire Removal
Insert the tool into the cone-end of the receiving end and turn counterclockwise to lower the spare tire, then remove tire from the winch (Figure 8).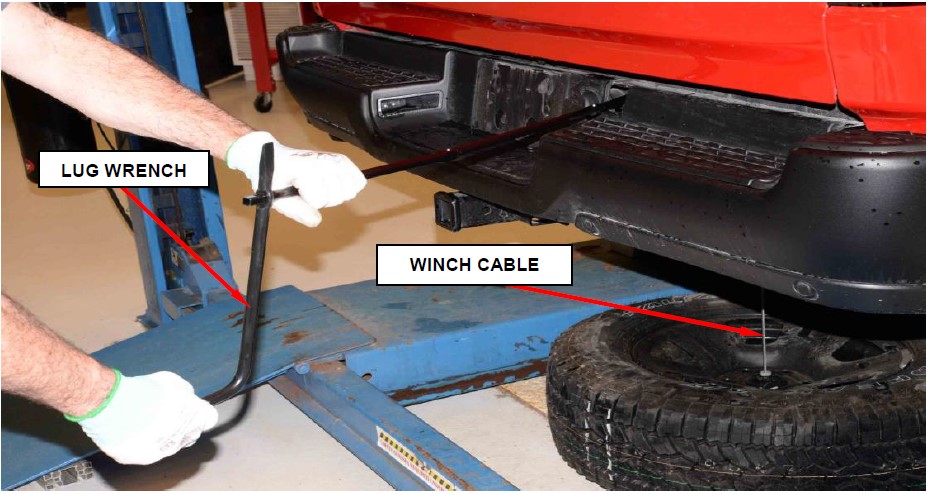 Figure 8 – Spare Tire Removal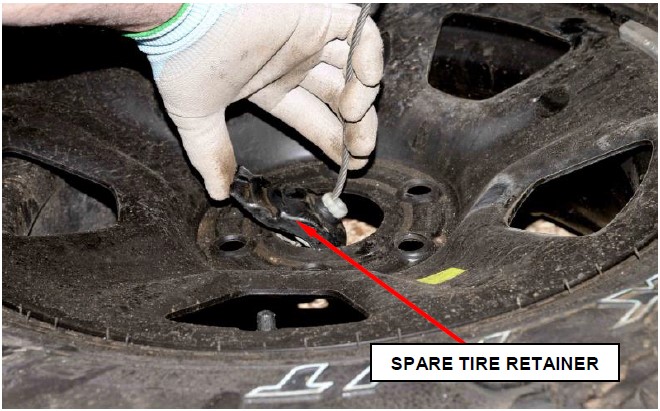 Figure 9 – Spare Tire Winch Release
NOTE: Dealer are required to drill a half inch hole into the side-wall of  the removed tire, and dispose it in accordance to their state rules and  regulations.
Align the NEW spare tire to the underbody and insert the winch cable end into the center of the wheel (Figure 9).
Turn the winch in the clockwise direction until the tire is fully retracted into the spare tire area (Figure 8).
Reinstall the access cover (Figure 7).
Disassemble the winch tool and place them into the storage bag.
Align the plastic side cover to the seat and install the cover (Figure 3).
DANGER: After using the jack and tools, always reinstall them in the original carrier and location. While driving you may experience abrupt stopping, rapid acceleration or sharp turns. A loose jack, tools, bracket or other objects in the vehicle may move around with force, resulting in serious injury.
Return the vehicle to the customer.
---
---
1 Affected Product
Vehicle
---
11 Associated Documents
ISSUED Owner Notification Letter(Part 577)
RCONL-19V448-2387.pdf 515.764KB
RCONL-19V448-2387

---
Manufacturer Notices(to Dealers,etc) – 06/14/2019 New Safety Recall Advanced Communication – V67
RCMN-19V448-8728

---
Remedy Instructions and TSB
RCRIT-19V448-2598.pdf 1531.646KB
RCRIT-19V448-2598

---
Recall Acknowledgement
RCAK-19V448-6399.pdf 244.006KB
RCAK-19V448-6399

---
Remedy Instructions and TSB
RCRIT-19V448-4280.pdf 1036.804KB
RCRIT-19V448-4280

---
Non-Compliance Notice 573 Report
RCLRPT-19V448-6674.PDF 214.075KB
RCLRPT-19V448-6674

---
Recall Quarterly Report #1, 2019-2
RCLQRT-19V448-5853.PDF 211.132KB
RCLQRT-19V448-5853

---
Recall Quarterly Report #3, 2019-4
RCLQRT-19V448-6237.PDF 211.315KB
RCLQRT-19V448-6237

---
ISSUED Renotification Notice
RCRN-19V448-9890

---
Recall Quarterly Report #2, 2019-3
RCLQRT-19V448-3907.PDF 211.23KB
RCLQRT-19V448-3907

---
Recall Quarterly Report #4, 2020-1
RCLQRT-19V448-7313.PDF 211.42KB
RCLQRT-19V448-7313

---
Latest Recalls Documents
https://www-odi.nhtsa.dot.gov/acms/cs/documentList.xhtml?docId=19V448&docType=RCL
---
Bestseller No. 2
BIG RED T10152 Torin Steel Scissor Lift Jack Car Kit, 1.5 Ton (3,000 lb) Capacity, Red
Collapsible, steel scissor lift jack has a compact design that can be used as a rugged replacement jack or as an extra utility jack that can be stored in the trunk of your car
Features a lifting range of 4-1/8" to 15-1/8" with a 1.5 ton (3,000 lb) capacity
Engineered using a drop forged alloyed steel construction for quality and durability
Equipped with an extra-wide base which adds stability and strength; 1 piece handle delivers on-the-spot quick response and speed
Bestseller No. 6
BIG RED T43202 Torin Steel Jack Stands: 3 Ton (6,000 lb) Capacity, Red, 2 count (pack of 1)
Lightweight jack stands are used to support your vehicle after lifting with a jack; Wide pyramid foot base provides added strength and stable support
Constructed of high-grade forged steel with a welded frame design for durability, it handles a wide range of vehicles including small cars, SUVs, and light duty trucks
Adjustable height ranges from 11-1/4" to 16-3/4" with a 3 ton (6,000 lb) load capacity
Multi-position ratchet bar has a sawtooth design, allowing for quick height adjustments that lock into place
Features a large saddle surface area for better contact with the load being supported; Tested for reliability and safety to meet ASME standards
Bestseller No. 9
Car Jack Kit | Scissor Jack for Car 1.5 Ton (3,300 lbs) - Tire Jack Tool Kit | Portable, Ideal for SUV and Auto - Universal Car Emergency Kit with Lug Wrench | Heavy Duty Material
✅ SPECIFICATION - Maximum lifting weight: 1.5 Ton (3,300 lbs). Lift operating distance from 4.13 inches to 15.15 inches. Net weight 5.34 lbs (2.42 kg).
✅ SMART MECHANISM - 90% less effort required to lift your vehicle with the innovative ratchet system and 90% less effort required to remove lug nuts with the adjustable lug wrench.
✅ FLAT TIRE REPAIR - For any emergency, this Car Jack Kit will help you change your tire fast and easy. With this kit you will not require anything additional.
✅ UNIVERSAL - This kit is designed to fit any vehicle: Sedan, Coupe, SUV, MPV, Hatchback, Crossover, Wagon and more.
✅ GUARANTEED PURCHASE - We know you have options here, and we know that our quality is superior, so we want to make the best choice the easiest one. That's why we will refund you 100% if you have a single concern about ANYTHING. Just send it back our way for a replacement or full refund! The choice is yours.
Last update on 2023-01-24 / Affiliate links / Images from Amazon Product Advertising API
This product was presentation was made with AAWP plugin.