June 13, 2019 NHTSA CAMPAIGN NUMBER: 19V448000
Spare Tire may not match Spare Tire Information
The driver, referencing the tire placard label, may incorrectly inflate the spare tire, increasing the risk of a crash.
NHTSA Campaign Number: 19V448
Manufacturer Chrysler (FCA US LLC)
Components TIRES
Potential Number of Units Affected 27
Summary
Chrysler (FCA US LLC) is recalling certain 2019 Ram 1500 trucks. The spare tire provided may differ in size and required inflation pressure from the information on the tire placard label. As such, these vehicles fail to comply with the requirements of Federal Motor Vehicle Safety Standard (FMVSS) number 110, "Tire Selection and Rims."
Remedy
Chrysler has notified owners, and dealers will replace the incorrect size spare tire with the correct size spare tire, free of charge. The recall began June 27, 2019. Owners may contact Chrysler customer service at 1-800-853-1403. Chrysler's number for this recall is V67.
Notes
Owners may also contact the National Highway Traffic Safety Administration Vehicle Safety Hotline at 1-888-327-4236 (TTY 1-800-424-9153), or go to www.safercar.gov.
Check if your Vehicle has a Recall
---
Revised June 2019
Dealer Service Instructions for:
Safety Recall V67 / NHTSA 19V-448 Incorrect Spare Tire
NOTE: Updated Mopar Tire Works phone number in the parts information section.
Remedy Available
NOTE:  Some vehicles above may have been identified as not involved in this recall and therefore have been excluded from this recall.
IMPORTANT:  Some of the involved vehicles may be in dealer new vehicle inventory.  Federal law requires you to complete this recall service on these vehicles before retail delivery.  Dealers should also consider this requirement to apply to used vehicle inventory and should perform this recall on vehicles in for service.  Involved vehicles can be determined by using the VIP inquiry process.
Subject
The spare tire on about 32 of the above vehicles may be equipped with a spare tire different than the spare tire size and cold inflation pressure designated on the tire placard label which does not meet the placard requirements of Federal Motor Vehicle Safety Standard ("FMVSS") 110.
Repair
Remove and replace the spare tire with the correct tire size.
Parts Information
| Description | Part Number |
| --- | --- |
| Tire, Spare Falken LT275/65R18 OWL All Terrain | 04726654AB |
| Tire, Spare Goodyear 245/70R18 110S Purpose Built | 04726681AA |
If tire replacement is required, call Mopar Tire Works at 888-403-8473 or go to DealerCONNECT / Parts Tab / Tire Order Entry and then follow the screen prompts.  Have the following information available: 
Vehicle Model and Model Year 
Tire Make, Model and Size
Parts Return
No parts return required for this campaign.
Special Tools
No special tools are required to perform this service procedure.
Service Procedure
A.  Inspect for correct spare tire
Open the driver's door and obtain the "Spare" tire size number on the label (Figure 1).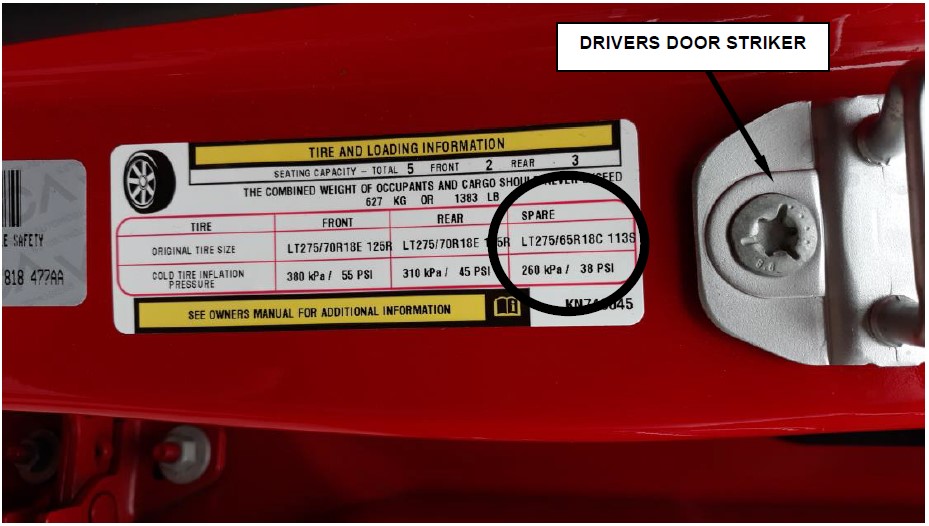 Figure 1 – Tire and Loading Information Label
Raise the vehicle and compare the spare tire size to the tire size on the label (Figure 2).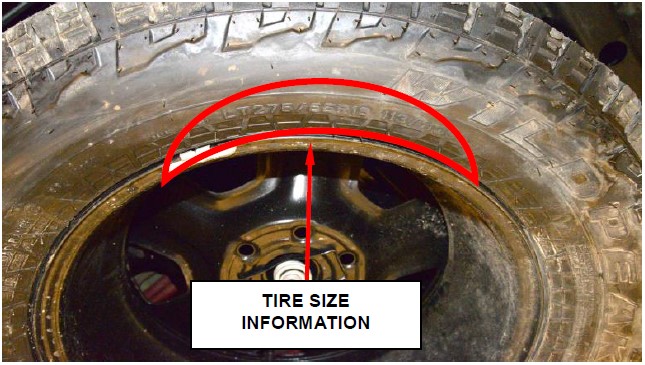 Figure 2 – Tire Size
If the spare tire and the label tire size numbers match, no additional service is needed, lower the vehicle and return it to the customer.
B.  Spare tire replacement procedure 
Remove the plastic access cover located on the side of the front passenger's seat. To remove the cover, pull the front part of the cover (closest to the front of the seat) toward you to release a locking tab. Once the front of the cover is loose, slide the cover toward the front of the seat until it is free from the seat frame, then remove cover (Figure 3).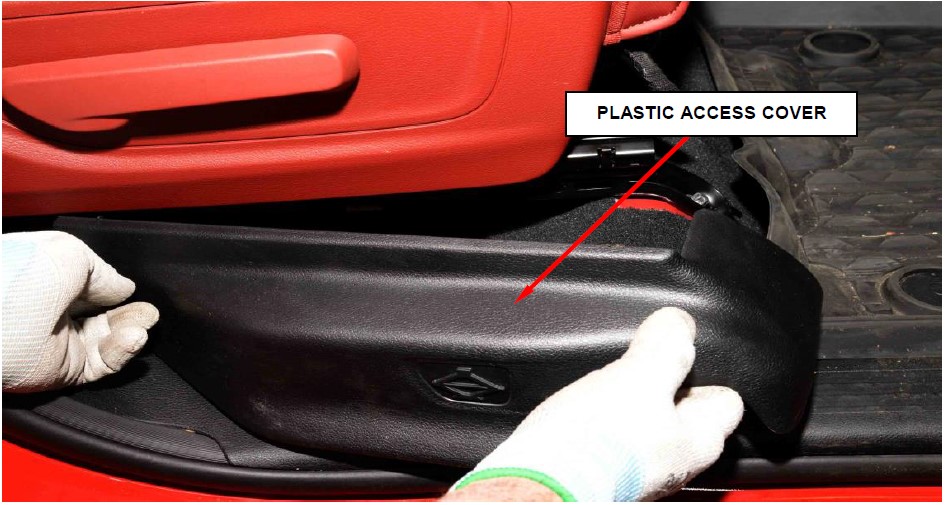 Figure 3 – Access Cover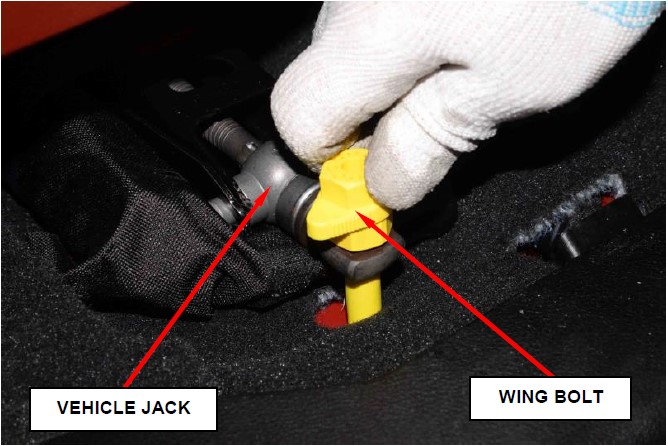 Figure 4 – Wing Bolt Removal
Release the tool bag straps from the jack and remove tools from bag (Figure 5).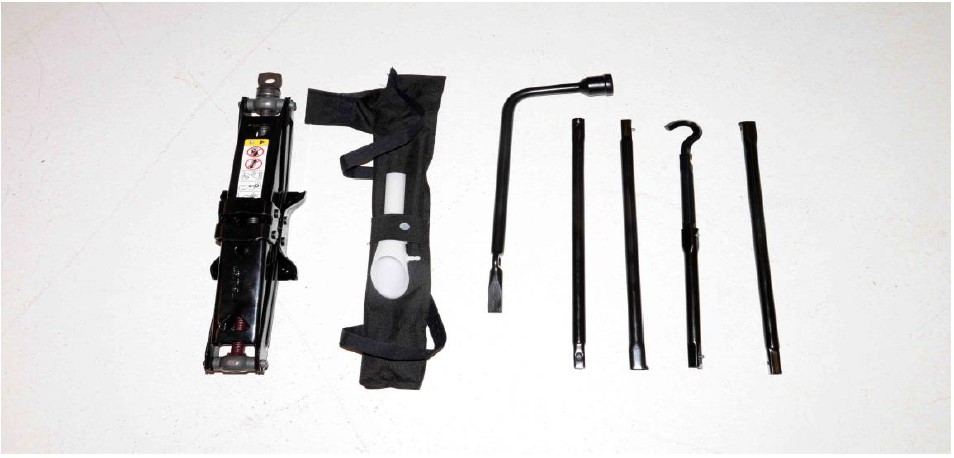 Figure 5 - Tools
Assemble the tools for lowering/raising the spare tire (Figure 6).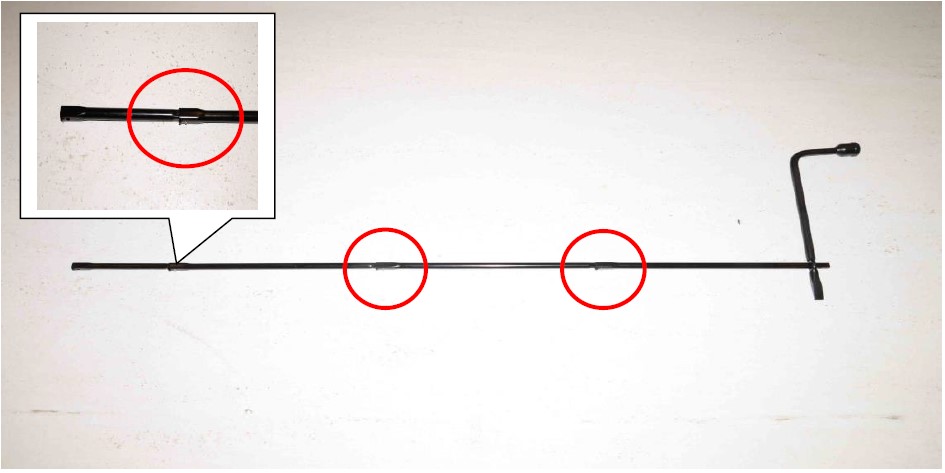 Figure 6 – Assembled Tool
Using a trim stick remove the access cover near the top right side of the rear bumper (Figure 7).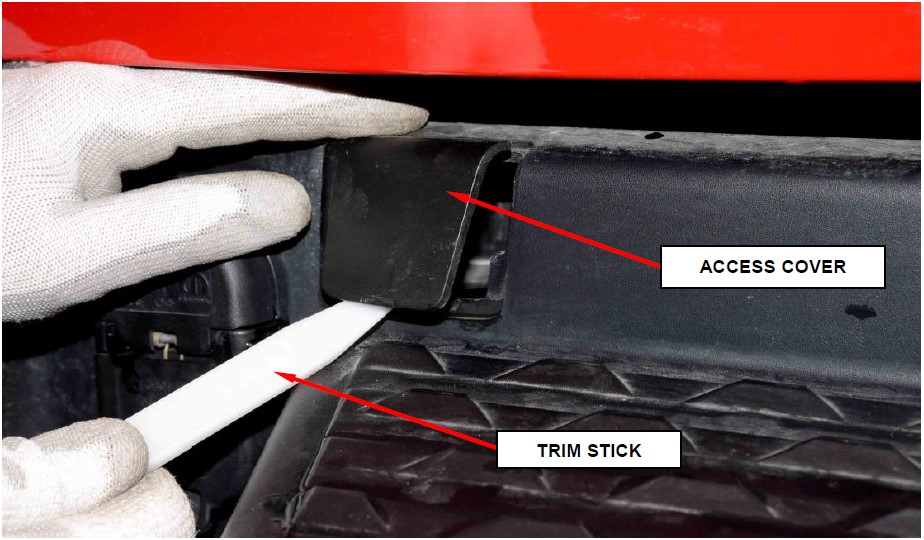 Figure 7 – Access Cover Figure 8 – Spare Tire Removal
Insert the tool into the cone-end of the receiving end and turn counterclockwise to lower the spare tire, then remove tire from the winch (Figure 8).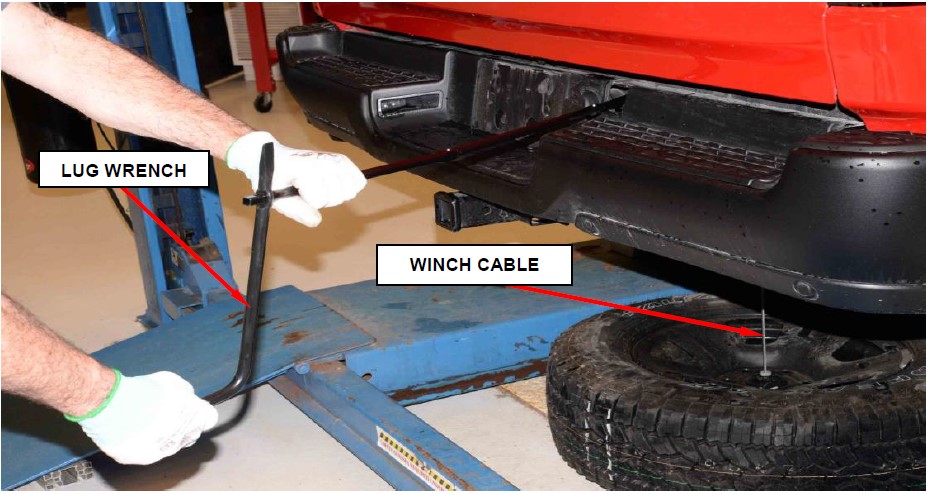 Figure 8 – Spare Tire Removal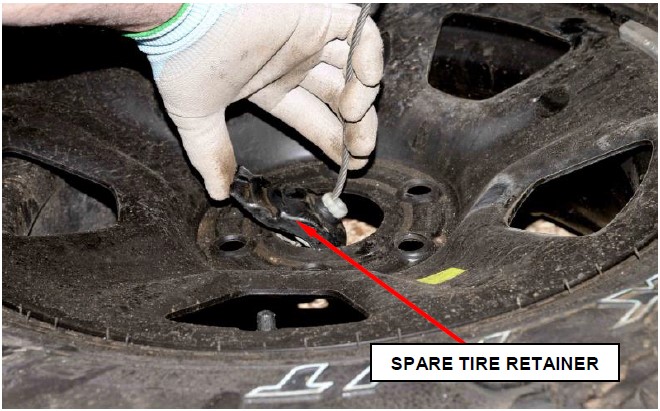 Figure 9 – Spare Tire Winch Release
NOTE: Dealer are required to drill a half inch hole into the side-wall of  the removed tire, and dispose it in accordance to their state rules and  regulations.
Align the NEW spare tire to the underbody and insert the winch cable end into the center of the wheel (Figure 9).
Turn the winch in the clockwise direction until the tire is fully retracted into the spare tire area (Figure 8).
Reinstall the access cover (Figure 7).
Disassemble the winch tool and place them into the storage bag.
Align the plastic side cover to the seat and install the cover (Figure 3).
DANGER: After using the jack and tools, always reinstall them in the original carrier and location. While driving you may experience abrupt stopping, rapid acceleration or sharp turns. A loose jack, tools, bracket or other objects in the vehicle may move around with force, resulting in serious injury.
Return the vehicle to the customer.
Completion Reporting and Reimbursement
Claims for vehicles that have been serviced must be submitted on the DealerCONNECT Claim Entry Screen located on the Service tab.   Claims paid will be used by FCA to record recall service completions and provide dealer payments.
Use one of the following labor operation numbers and time allowances:
Labor Operation
Number
Time
Allowance
Inspect for correct spare tire
22-V6-71-81
0.2 hours
Inspect and replace spare tire
22-V6-71-82
0.6 hours
NOTE:  See the Warranty Administration Manual, Recall Claim Processing Section, for complete recall claim processing instructions.
Dealer Notification
To view this notification on DealerCONNECT, select "Global Recall System" on the Service tab, then click on the description of this notification.
Owner Notification and Service Scheduling
All involved vehicle owners known to FCA are being notified of the service requirement by first class mail.  They are requested to schedule appointments for this service with their dealers.  A generic copy of the owner letter is attached.
Vehicle Lists, Global Recall System, VIP and Dealer Follow Up
All involved vehicles have been entered into the DealerCONNECT Global Recall System (GRS) and Vehicle Information Plus (VIP) for dealer inquiry as needed.
GRS provides involved dealers with an updated VIN list of their incomplete vehicles.  The owner's name, address and phone number are listed if known. Completed vehicles are removed from GRS within several days of repair claim submission.
To use this system, click on the "Service"  tab and then click on "Global Recall System."  Your dealer's VIN list for each recall displayed can be sorted by: those vehicles that were unsold at recall launch, those with a phone number, city, zip code, or VIN sequence.
Dealers must perform this repair on all unsold vehicles before retail delivery. Dealers should also use the VIN list to follow up with all owners to schedule appointments for this repair.
Recall VIN lists may contain confidential, restricted owner name and address information that was obtained from the Department of Motor Vehicles of various states.  Use of this information is permitted for this recall only and is strictly prohibited from all other use.
Additional Information
If you have any questions or need assistance in completing this action, please contact your Service and Parts District Manager.
Customer Services / Field Operations
FCA US LLC
---
This notice applies to your vehicle,
 [Model Year and Model]  VIN XXXXXXXXXXXXXXXXX V67/NHTSA 19V-448
LOGO
VEHICLE PICTURE
YOUR SCHEDULING OPTIONS
Call the FCA Recall Assistance Center at 1-800-853-1403. An agent can confirm part availability and help schedule an appointment 
Visit mopar.com, scan the QR code below, or download the Mopar Owner's Companion App.
QR Code
Get access to recall notifications, locate your nearest dealer, and more through this website or Mopar Owner's Companion App. You will be asked to provide your Vehicle Identification Number (VIN) to protect and verify your identity. The last eight characters of your VIN are provided above.
DEALERSHIP INSTRUCTIONS
Please reference Safety Recall V67.
---
IMPORTANT SAFETY RECALL
Incorrect Spare Tire
Dear [Name],
This notice is sent to you in accordance with the National Traffic and Motor Vehicle Safety Act. 
FCA has decided that certain [2019 (DT) Model Year RAM 1500 Pickup] vehicles fail to conform to Federal Motor Vehicle Safety Standard (FMVSS) No. 110 – which requires that each vehicle shall show recommended cold tire inflation pressure for front, rear and spare tires, for full size spare tires, tire size designation, and the tires installed at the time of the first purchase for purposes other than resale.
It is extremely important to take steps now to repair your vehicle to ensure the safety of you and your passengers.
WHY DOES MY VEHICLE NEED REPAIRS?
The spare tire on your truck [1] may have a spare tire different than the spare tire size and cold inflation pressure designated on the tire placard label. A driver may rely on the incorrect spare tire inflation pressure on the tire placard label and inflate the spare tire to an incorrect pressure resulting in potentially degraded vehicle performance, which can cause vehicle crash without prior warning.
HOW DO I RESOLVE THIS IMPORTANT SAFETY ISSUE?
FCA will repair your vehicle [2] free of charge (parts and labor).  To do this, your dealer will remove and replace the spare tire with the correct tire. The estimated repair time is about one hour. In addition, your dealer will require your vehicle for proper check-in, preparation, and check-out during your visit, which require more time. Your time is important to us, so we recommend that you schedule a service appointment to minimize your inconvenience. Please bring this letter with you to your dealership.
TO SCHEDULE YOUR FREE REPAIR,
CALL YOUR CHRYSLER, DODGE, JEEP OR RAM DEALER TODAY
WHAT IF I ALREADY PAID TO HAVE THIS REPAIR COMPLETED?
If you have already experienced this specific condition and have paid to have it repaired, you may visit www.fcarecallreimbursement.com to submit your reimbursement request online. [3] Once we receive and verify the required documents, reimbursement will be sent to you within 60 days.  If you have had previous repairs performed and/or already received reimbursement, you may still need to have the recall repair performed.
We apologize for any inconvenience, but are sincerely concerned about your safety.  Thank you for your attention to this important matter.
Customer Assistance/Field Operations
FCA US LLC
---
Mr. Mrs. Customer
1234 Main Street
Hometown, MI 48371
[1] If you no longer own this vehicle, please help us update our records. Call the FCA Recall Assistance Center at 1-800-853-1403 to update your information.
[2] If your dealer fails or is unable to remedy this defect without charge and within a reasonable time, you may submit a written complaint to the Administrator, National Highway Traffic Safety Administration, 1200 New Jersey Ave., S.E., Washington, DC  20590, or you can call the toll-free Vehicle Safety Hotline at 1-888-327-4236 (TTY 1-800-4249153), or go to safercar.gov.
[3] You can also mail in your original receipts and proof of payment to the following address for reimbursement consideration: FCA Customer Assistance, P.O. Box 21-8004, Auburn Hills, MI 48321-8007, Attention: Recall Reimbursement.
Note to lessors receiving this recall notice: Federal regulation requires that you forward this recall notice to the lessee within 10 days.
---
1 Affected Product
Vehicle
---
6 Associated Documents
Manufacturer Notices(to Dealers,etc) - 06/14/2019 New Safety Recall Advanced Communication – V67
---
Remedy Instructions and TSB
RCRIT-19V448-2598.pdf 1531.646KB
---
Recall Acknowledgement
RCAK-19V448-6399.pdf 244.006KB
---
Remedy Instructions and TSB
RCRIT-19V448-4280.pdf 1036.804KB
---
Non-Compliance Notice 573 Report
RCLRPT-19V448-6674.PDF 214.075KB
---
ISSUED Owner Notification Letter(Part 577)
RCONL-19V448-2387.pdf 515.764KB
---
Recalls Documents
https://www-odi.nhtsa.dot.gov/acms/cs/documentList.xhtml?docId=19V448&docType=RCL
---
Sale
Bestseller No. 1
Sale
Bestseller No. 2
Torin Big Red Steel Scissor Jack, 1.5 Ton (3,000 lb) Capacity
Lift range from 4-1/8" to 15-1/8"; Capacity of 1-1/2 Tons (3,000 lbs)
Oversized 4-1/2" base width for maximum support and stability
Rugged alloyed steel construction with heavy-duty steel frame and saddle
Meets ASME standards and includes a limited 1 year manufacturer warranty
Sale
Bestseller No. 3
Sale
Bestseller No. 4
Pro-Lift F-767 Grey Low Profile Floor Jack - 2 Ton Capacity
Extra low profile
Lifting range of 3-1/2 inches to 14 inches
Patented bypass device protects against over pumping for safe operations
Built-in safety valve provides overload protection. Rust Resistant
Heavy duty steel construction provides long term durability
Sale
Bestseller No. 5
Arcan XL20 Black Service Jack
Compact design with all the versatility of a full size jack
Dual pump for rapid lifting. Service jack. Includes 2-piece, 45. 3inch. handle with bumper pad.
Universal joint release mechanism provides precise control
Safety valve prevents overloading. Min. Lift Height 3 1/2 Inches. Max. Lift Height 18 1/2 Inches plies with the ASME PALD 2009 standard
It is constructed out of high quality heavy duty steel
Sale
Bestseller No. 6
RhinoGear 11909ABMI RhinoRamps Vehicle Ramp - Set of 2 (12,000lb. GVW Capacity)
Portable automotive ramps with a rugged and structural design
Provides reliable and convenient access to the underside of your vehicle as well as nestability for maximum storage space
CoreTRAC non-skid base helps reduce slippage
17 degree incline provides easy use for low clearance vehicles
12,000 pound GVW (gross vehicle weight) capacity
Bestseller No. 7
CPROSP Scissor Jack Car for/SUV/MPV max 2 Tons(4,409 lbs) Capacity with Hand Crank Trolley Lifter with Ratchet
Maximum load: 2.0T (2000kg/4,409 lbs); Lifting height: 4"~17.3"(105m - 480mm); Net weight: 7.3lbs /3.30kg
With the scissor jack you can easily and quickly adjust the height of your vehicles. Thanks to the handy hand crank and the smooth-running spindle, changing tires is child's play from now on
Product features: The solid base plate also ensures a secure footing, corrosion-resistant, Strong metal construction made of steel, withstands high pressure
Suitable for: Station Wagon, Van, SUV, Large Van, Mini Bus
Including: 1x 2T jack ;1x Ratchet wrench
Bestseller No. 8
AmazonBasics Steel Jack Auto Stands, 3 Ton Capacity, 1 Pair
Pair of 3-ton jack stands with 6,000-pound capacity total (when used together)
Self-locking ratchet means no locking key is necessary; meets ASME PASE-2014 Safety Standard for Portable Automotive Service Equipment
Stand can be raised or lowered to the height needed; self-locking ratchet for ease of use
Durable steel frame with rustproof coating; easy-to-read weight capacity
Backed by an AmazonBasics limited 1-year warranty
Bestseller No. 9
Fasmov Scissor Jack-1.5 Ton,Black
Portable and easy to use
Built for extra lifting
Heavy duty metal frame
Stabilize or lift your car, trailer or SUV minimum height from 3.5 inches to maximum height 13.8 inches
High quality Scissor Jack
Bestseller No. 10
TONDA 2 Ton Capacity Garage Floor Jack Heavy Duty, Quick Lift (The max Height 13 inches)
Large steel casters and swivel casters for easy maneuverability. The min height is 13.5cm, about 5 inches and the max height is 330mm, about 13 inches.
Lightweight for easy mobility and transport.
All welded steel frame construction with rust resistant finish for longer tool life.
Built to suit the needs of all trades from professional to the DIY lover.
Ideal for auto,SUV, truck service, farm, and shop use. Designed to meet ANSI/ASME PALD 2014 standards.
Last update on 2019-07-15 / Affiliate links / Images from Amazon Product Advertising API
Last update on 2019-07-15 / Affiliate links / Images from Amazon Product Advertising API