NO: 19-02-99 Rev. A
SUBJECT: Clunking Or Rattle In Steering Wheel/Steering Column
DATE: Oct. 22, 1999
OVERVIEW:
This bulletin involves resetting the steering column preload.
SYMPTOM/CONDITION:
Steering wheel/column clunking or rattle is more frequent while hitting bumps or on hard turns.
DIAGNOSIS:
Inspect steering wheel/column for any rattle or clunking noise. If symptoms exist perform the Repair Procedure.
PARTS REQUIRED:
| | | |
| --- | --- | --- |
| Qty | Part No. | Description |
| 1 | 05015627AA | Bolt, Steering Gear Coupler Retaining, PL |
| 1 | **06506112AA | Bolt, Steering Gear Coupler Retaining, JA/JX** |
| 1 | **06036212AA | Clip, Steering Gear Coupler Retaining, JA/JX** |
REPAIR PROCEDURE:
THIS REPAIR IS COMPATIBLE WITH DAIMLERCHRYSLER'S MOBILE SERVICE PROGRAM AND DOES NOT REQUIRE HOISTS OR OTHER FULL SERVICE FACILITY SPECIAL EQUIPMENT.
NOTE: THE VEHICLE WHEELS NEED TO BE ON THE GROUND (SUPPORTING VEHICLE WEIGHT) WHEN PERFORMING THIS REPAIR.
Disconnect and isolate the battery negative cable.
If the vehicle is equipped with a tilt steering column, adjust to the full up position.
Detach the lower steering column intermediate shaft from the steering gear shaft (Figure 1) This allows the steering column preload to reset.
Re-attach the intermediate shaft to the steering gear using a new pinch bolt from the Parts Required section of this bulletin. Tighten the bolt to 27 N• m (240 in. lbs.).
Install the retaining clip/pin into the pinch bolt (Figure 1).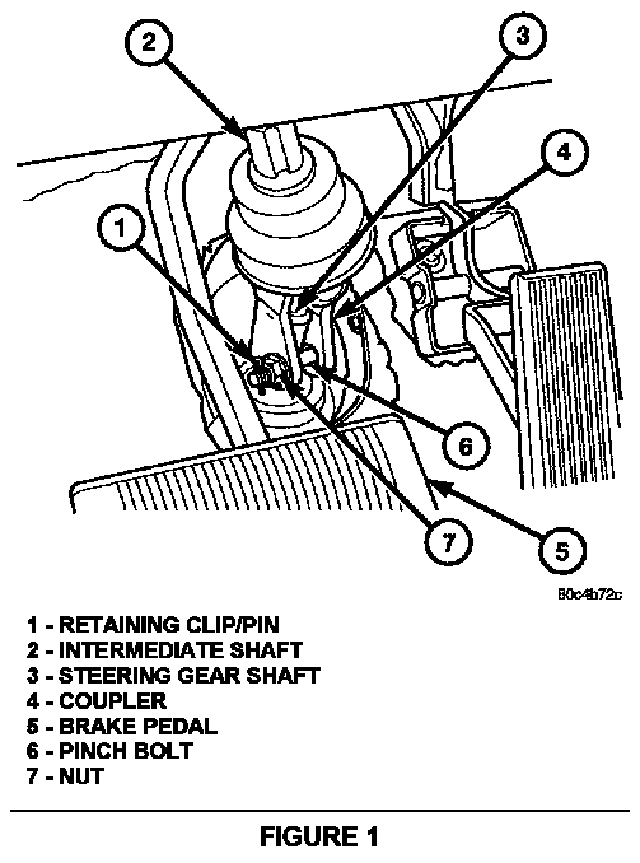 NOTE: A NEW STEERING GEAR COUPLING PINCH BOLT MUST BE USED WHEN RE-ATTACHING THE INTERMEDIATE SHAFT TO THE STEERING GEAR. THIS BOLT HAS A LOCKING PATCH THAT IS DESTROYED WHEN THE NUT IS REMOVED.
Connect the battery negative cable and reset the clock.
POLICY:
Reimbursable within the provisions of the warranty.
TIME ALLOWANCE:
| | |
| --- | --- |
| Labor Op. No. | Time |
| 19-20-12-96 | 0.3 Hrs. |
FAILURE CODE:
| | |
| --- | --- |
| Code | Description |
| XX | Service Adjustment |
THIS BULLETIN SUPERSEDES TECHNICAL SERVICE BULLETIN'S 19-01-98 DATED FEBRUARY 6, 1998 WHICH SHOULD BE REMOVED FROM YOUR FILES AND NOTED IN THE 1998 TECHNICAL SERVICE BULLETIN MANUAL (PUBLICATION NO. 81-699-99003) AND 19-02-99 WHICH SHOULD BE REMOVED FROM YOUR FILES. ALL REVISION ARE HIGHLIGHTED WITH **ASTERISKS** AND INCLUDE ADDITIONAL MODELS AND PARTS CHANGES.