NUMBER: 08-039-15
GROUP: Electrical
DATE: April 18, 2015
THIS SERVICE BULLETIN IS ALSO BEING RELEASED AS RAPID RESPONSE TRANSMITTAL (RRT) 15-037, ALL APPLICABLE SOLD AND UN-SOLD RRT VIN's HAVE BEEN LOADED. TO VERIFY THAT THIS RRT SERVICE ACTION IS APPLICABLE TO THE VEHICLE, USE VIP OR PERFORM A VIN SEARCH IN TECHCONNECT. ALL REPAIRS ARE REIMBURSABLE WITHIN THE PROVISIONS OF WARRANTY.
THE wiTECH SOFTWARE LEVEL MUST BE AT 15.04 OR HIGHER TO PERFORM THIS PROCEDURE.
SUBJECT:
Tire Pressure Monitoring System May Display Wrong Tire Location
OVERVIEW:
The Body Control Module (BCM) must be reconfigured to a Premium Tire Pressure Monitor System (TPMS).
MODELS:
NOTE: This bulletin applies to vehicles built on or after November 08, 2012 (MDH 1108XX) and on or before August 06, 2014 (MDH 0806XX) equipped with Premium Instrument Cluster (Sales Code JAJ) with Base Tire Pressure Monitoring System (Sales Codes LAB).
SYMPTOM/CONDITION:
The customer may notice a message "Low Tire" displayed on the cluster:
Tire Pressure Monitoring screen on the instrument cluster may indicate the incorrect tire location shown when low tire pressure is detected.
Example scenario: Right rear tire (RR) may show as low on the instrument cluster when actually it may be left front tire (LF) as being low when a tire gauge is used to check tire pressure.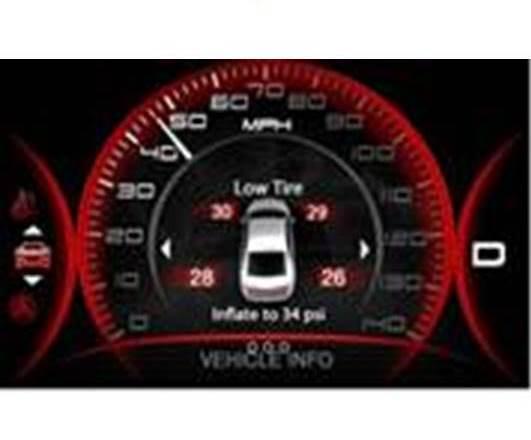 Fig. 1 Low Tire Display On Instrument Cluster
DIAGNOSIS:
Using a Scan Tool (wiTECH) with the appropriate Diagnostic Procedures available in TechCONNECT, verify all systems are functioning as designed. If DTCs or symptom conditions, other than the ones listed above are present, record the issues on the repair order and repair as necessary before proceeding further with this bulletin.
If a customer's VIN is listed in VIP or your RRT VIN list, perform the repair. For all other customers that describe the symptom/condition listed above, perform the Repair Procedure.
REPAIR PROCEDURE:
NOTE: Install a battery charger

to ensure battery voltage does not drop below 13.2 volts. Do not allow the charging voltage to climb above 13.5 volts during the reconfig process.
Using wiTECH, reconfigure the Body Control Module (BCM). This routine is available under the 'Diagnostic Procedures' tab found on the home, 'Vehicle View', page of wiTECH.
From the "Vehicle View" screen, select the "Vehicle Preparations" tab.
Highlight the "Restore BCM Proxi Configuration" row and select the green arrow.
Follow the wiTECH screen prompts.
Perform the "Proxi Configuration Alignment" procedure.
Follow the wiTECH screen prompts.
Return to the "Vehicle View" screen.
Using wiTECH clear any DTCs which may have been set during the reconfiguration.
POLICY:
Reimbursable within the provisions of the warranty.
TIME ALLOWANCE:
| | | | |
| --- | --- | --- | --- |
| Labor Operation No: | Description | Skill Category | Amount |
| 18-19-02-AF | Module, Body Control (BCM) Reprogram (1 – Semi-Skilled) | 6- Electrical And Body Systems | 0.2 Hrs. |
NOTE: The expected completion time for the flash download portion of this procedure is approximately 4 minutes. Actual flash download times may be affected by vehicle connection and network capabilities.
FAILURE CODE:
The dealer must choose which failure code to use. If the customer came in with an issue and the dealer found updated software to correct that issue, use failure code CC, for all other use failure code RF.
If the customer's concern matches the SYMPTOM/CONDITION identified in the Service Bulletin, than failure code CC is to be used.
If an available flash is completed while addressing a different customer concern, failure code RF is to be used.
| | |
| --- | --- |
| CC | Customer Concern |
| RF | Routine Flash |
---
https://static.nhtsa.gov/odi/tsbs/2015/SB-10057931-9361.pdf
08-039-15

---

Price Disclaimer