NUMBER: 08-052-15
GROUP: Electrical
DATE: May 08, 2015
THIS SERVICE BULLETIN IS ALSO BEING RELEASED AS RAPID RESPONSE TRANSMITTAL (RRT) 15-049. ALL APPLICABLE SOLD AND UN-SOLD RRT VIN's HAVE BEEN LOADED. TO VERIFY THAT THIS RRT SERVICE ACTION IS APPLICABLE TO THE VEHICLE, USE VIP OR PERFORM A VIN SEARCH IN TECHCONNECT. ALL REPAIRS ARE REIMBURSABLE WITHIN THE PROVISIONS OF WARRANTY.
THE wiTECH SOFTWARE LEVEL MUST BE AT RELEASE 15.04 OR HIGHER TO PERFORM THIS PROCEDURE.
SUBJECT:
Compass Direction Displayed Is 90 Degrees Off
OVERVIEW:
This bulletin involves a vehicle reconfiguration and proxi alignment for proper compass direction displayed within the instrument cluster.
MODELS:
NOTE: This bulletin applies to vehicles built on or before April 23, 2015 (MDH 0423XX).
SYMPTOM/CONDITION:
The customer may notice the compass direction displayed is 90 degrees off (Fig. 1).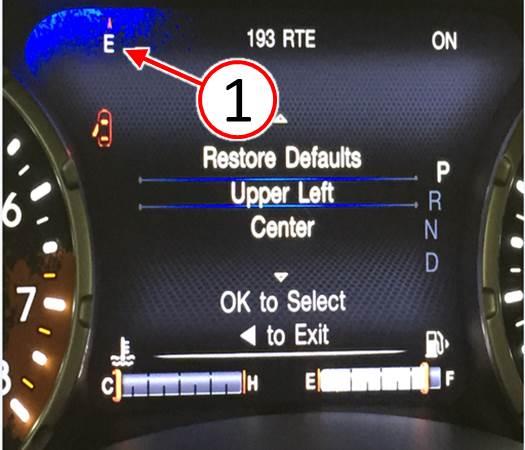 Fig. 1 Compass
1 – Compass Direction Indicator
---
DIAGNOSIS:
Using a Scan Tool (wiTECH) with the appropriate Diagnostic Procedures available in TechCONNECT, verify that no Diagnostic Trouble Codes (DTCs) are set. If DTCs are present, record them on the repair order and repair as necessary before proceeding further with this bulletin.
If a customer's VIN is listed in VIP or your RRT VIN list, perform the repair. For all other customers that describe the symptom/condition listed above, perform the Repair Procedure.
REPAIR PROCEDURE:
NOTE: If the compass direction displayed is correct, this bulletin does not apply. Use LOP 18-19-02-AN to close the active RRT.
NOTE: A Key Pin Code will be required in order to perform this procedure. Obtain the Code prior to beginning. The key pin code can be obtained in DealerCONNECT under the SERVICE tab in the REPAIR INFORMATION section. If the Key Code link is not visible in the REPAIR INFORMATION section, security access to Key Pin Codes may be required.
Using wiTECH, restore configuration and align proxi. This routine is available under the 'Diagnostic Procedures' tab found on the home, 'Vehicle View', page of wiTECH.
Using wiTECH clear any DTCs which may have been set during the reconfiguration and proxi alignment.
POLICY:
Reimbursable within the provisions of the warranty.
TIME ALLOWANCE:
| | | | |
| --- | --- | --- | --- |
| Labor Operation No: | Description | Skill Category | Amount |
| 18-19-02-AN | Module, Body Control (BCM) – Reconfigure and Proxi Align and/or Inspect Compass Direction. (0 – Introduction) | 6 – Electrical and Body Systems | 0.2 Hrs. |
FAILURE CODE:
The dealer must choose which failure code to use. If the customer came in with an issue and the dealer found updated software to correct that issue, use failure code CC, for all other use failure code RF.
If the customer's concern matches the SYMPTOM/CONDITION identified in the Service Bulletin, than failure code CC is to be used.
If an available flash is completed while addressing a different customer concern, failure code RF is to be used.
| | |
| --- | --- |
| CC | Customer Concern |
| RF | Routine Flash |
---
08-052-15

---