NUMBER: 08-059-15 REV. B
GROUP: Electrical
DATE: September 12, 2015
THIS BULLETIN SUPERSEDES SERVICE BULLETIN 08-059-15 REV. A, DATED JUNE 9, 2015, WHICH SHOULD BE REMOVED FROM YOUR FILES. ALL REVISIONS ARE HIGHLIGHTED WITH **ASTERISKS** AND INCLUDES UPDATING SYMPTOM/CONDITIONS, IMPROVEMENTS AND RADIO SOFTWARE.
THIS SERVICE BULLETIN IS ALSO BEING RELEASED AS RAPID RESPONSE TRANSMITTAL (RRT) 15-067. ALL APPLICABLE SOLD AND UN-SOLD RRT VIN's HAVE BEEN LOADED. TO VERIFY THAT THIS RRT SERVICE ACTION IS APPLICABLE TO THE VEHICLE, USE VIP OR PERFORM A VIN SEARCH IN TECHCONNECT. ALL REPAIRS ARE REIMBURSABLE WITHIN THE PROVISIONS OF WARRANTY.
SUBJECT:
RA4 Radio Enhancements
OVERVIEW:
This bulletin involves upgrading the software on the RA4 Radio.
MODELS:
NOTE: This bulletin applies to vehicles within the following markets/countries: NAFTA.
NOTE: This bulletin applies vehicles built on or before **July 04, 2015 (MDH 0704XX)** equipped with Uconnect 6.5" NAV (sales code RA4) radio.
SYMPTOM/CONDITION:
The customer may experience one or more of the following:
Travel Link soft key missing (U.S. only).
**Weather map now available for SXM (U.S. only).
Cannot select different map displays.
Point Of Interest (POI) cannot be added as waypoints.
Conference calls may not display all active callers.
Improve iPod response time, to start playing audio.
Browsing knob inoperative after exiting Short Message Service (SMS).
"Where Am I" feature inoperative while driving.
When using iPod touch, the incorrect song name may be displayed.
May not display Auto Park Brake menu, if equipped.
Cannot create a new SMS, using phone numbers.
Display the correct message, when in service mode.
Poor or no audio from the radio, also radio controls may not respond. On further inspection the technician my find DTC B223B-00 Vehicle Configuration Mismatch.
False error message while in service brake mode.
Personal setting lost after key cycle, dynamic guidelines and Show Time bar.**
IMPROVEMENTS
**Display Travel Link soft key on more of the display screens (U.S. only).
Display the correct media screen when using iPod touch.
Improve screen layouts during media playback.
Improved SMS screen displays.
Correctly display speed lockout messages.
Color improvements on navigation map.
Improved chime warning volumes.
Browsing improvements for Bluetooth audio.
Improved conference call handling.
Improved Voice Recognition (VR) commands for AM radio request.**
DIAGNOSIS:
Using a Scan Tool (wiTECH) with the appropriate Diagnostic Procedures available, verify if any Diagnostic Trouble Codes (DTCs) are set. If Audio DTCs are present record them on the repair order and repair as necessary before proceeding further with this bulletin.
If a customer's VIN is listed in VIP or your RRT VIN list, perform the repair. For all other customers that describe the symptom/condition listed above or if the technician finds the DTC, perform the Repair Procedure.
NOTE: Software updates are available for download to USB flash drive on the Uconnect web site.
REPAIR PROCEDURE:
Check the software version.

Is the software at **15.21.37** or higher?

Yes >>> This bulletin has been completed, use LOP 18-60-02-FY to close an activeRRT.
No >>> Proceed to Step #3.

Has the USB flash drive been created?

Yes >>> Proceed to Step #7.
No >>> Proceed to Step #4.

Go to DealerCONNECT>Service>UCONNECT Information & Utilities> Uconnect Dealer software downloads to download the files.
If a security message appears "Do you want to view only the web page content that was delivered securely?" press "NO" to continue.
NOTE: If the dealer cannot download the software, make sure you have proper security access. If not, have the Service Manager or Shop Foreman download the software update.
NOTE: The site is optimized for Microsoft Internet Explorer 8 or 10. Use these software version if you encounter a problem downloading the Software.
To download the software files to a USB flash drive, follow the on screen instructions and perform the following.

Acquire a blank USB flash drive with at least 4 gb of space.
Download the software update file to your local pc's desktop.
Be sure to extract the file before copying it to the blank USB flash drive.
A blank USB flash drive will be needed one for each radio update, additional updates can not be on the same USB flash drive.
Once the file is saved to the USB flash drive, it is recommended you physically label the USB flash drive with the bulletin number and proper radio sales codes.
NOTE: If the software update process is interrupted/aborted, the process should be restarted.
Remove any customer USB flash drive from both USB ports.
With the engine running and radio powered on, insert the correct USB flash drive into USB port in the center armrest compartment, see (Fig. 1).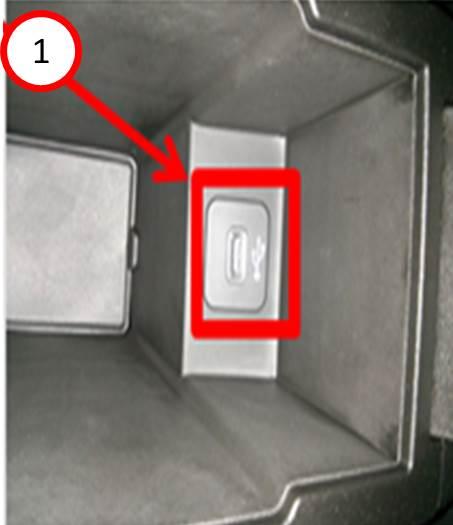 Fig. 1 Location Of USB Port
1 – USB port in center console compartment.
---
The screen will now display the new and old software, press "Yes" to continue.
CAUTION: The screen may display "No Files On USB" Do Not remove the USB flash drive. This message should only last about a minute.
The software update should take around 20 minutes.
After the update is completed, the screen will again display the new and old software,this time press "No".
Remove the USB flash drive, the update has been completed.
Verify that the display screen now shows the Travel Link soft key (Fig. 2).
---
POLICY:
Reimbursable within the provisions of the warranty.
TIME ALLOWANCE:
| | | | |
| --- | --- | --- | --- |
| Labor Operation No: | Description | Skill Category | Amount |
| **18-60-02-HG** | Radio, Perform Software Update (0 – Introduction) | 6 – Electrical and Body Systems | 0.3 Hrs. |
| 18-60-02-FY | Radio, Software – Inspection (0 – Introduction) | 6 – Electrical and Body Systems | 0.2 Hrs. |
| **18-60-02-HH** | Radio, Software – Create USB Flash Drive (One Time Only) (0 – Introduction) | 6 – Electrical and Body Systems | 0.2 Hrs. |
NOTE: The "One Time Only" LOP is used one time per dealer when downloading the software onto a USB stick. The dealer can only use the download LOP, one time for each of the radios.
FAILURE CODE:
The dealer must choose which failure code to use. If the customer came in with an issue and the dealer found updated software to correct that issue, use failure code CC, for all other use failure code RF.
If the customer's concern matches the SYMPTOM/CONDITION identified in the Service Bulletin, failure code CC is to be used.
If an available flash is completed while addressing a different customer concern, failure code RF is to be used.
| | |
| --- | --- |
| CC | Customer Concern |
| RF | Routine Flash |
---
08-059-15B

---

Price Disclaimer