NUMBER: 23-031-15
GROUP: Body
DATE: August 12, 2015
THIS SERVICE BULLETIN IS ALSO BEING RELEASED AS RAPID RESPONSE TRANSMITTAL (RRT) 15-085. ALL APPLICABLE SOLD AND UN-SOLD RRT VIN's HAVE BEEN LOADED. TO VERIFY THAT THIS RRT SERVICE ACTION IS APPLICABLE TO THE VEHICLE, USE VIP OR PERFORM A VIN SEARCH IN TECHCONNECT. ALL REPAIRS ARE REIMBURSABLE WITHIN THE PROVISIONS OF WARRANTY.
SUBJECT:
Gap Between Headliner And Sunroof Shade
OVERVIEW:
This bulletin involves replacing the headliner.
MODELS:
NOTE: This bulletin applies to vehicles within the following markets/countries:
NAFTA, LATAM, EMEA, APAC
NOTE: This bulletin applies to vehicles built on or after May 29, 2015 (MDH 0529XX) and on or before June 03, 2015 (MDH 0603XX) equipped with Full Sunroof, Pwr Frt, Fixed Rear (Sales Code GWJ).
SYMPTOM/CONDITION:
The customer may describe a larger than expected gap between the headliner and the sunroof shade.
DIAGNOSIS:
If a customer's VIN is listed in VIP or your RRT VIN list, perform the Repair Procedure. 23-031-15 -2-
PARTS REQUIRED:
REPAIR PROCEDURE: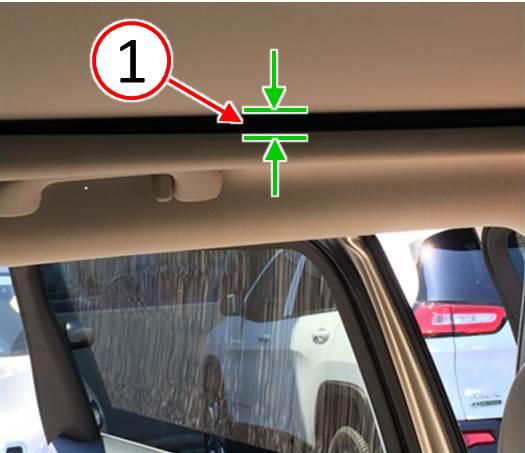 Fig. 1 Gap Between Headliner And Sunroof Shade
1 – Gap
---
Is the gap greater than 4 mm (5/32 in.)?

YES>>> Continue with the Repair Procedure Step #3.
NO>>> This bulletin has been completed, use LOP (23-20-45-9D) to close the active RRT.
POLICY:
Reimbursable within the provisions of the warranty.
TIME ALLOWANCE:
| | | | |
| --- | --- | --- | --- |
| Labor Operation No: | Description | Skill Category | Amount |
| 23-20-45-9D | Headliner – Inspect Gap at Sunroof Shade (1 – Semi-Skilled) | 6 – Electrical and Body Systems | 0.2 Hrs. |
| 23-20-45-9E | Headliner – Inspect and Replace (1 – Semi-Skilled) | 6 – Electrical and Body Systems | 1.8 Hrs. |
FAILURE CODE:
---
23-031-15

---