NUMBER: 08-103-15
GROUP: Electrical
DATE: October 30, 2015
THIS BULLETIN SUPERSEDES TECHNICAL SERVICE BULLETIN 08-021-14 REV. C, DATED OCTOBER 30, 2014, WHICH SHOULD BE REMOVED FROM YOUR FILES. ALL REVISIONS ARE HIGHLIGHTED WITH **ASTERISKS** AND INCLUDE ADDITIONAL SYMPTOM, SOFTWARE AND LOP.
THIS SERVICE BULLETIN IS ALSO BEING RELEASED AS RAPID RESPONSE TRANSMITTAL (RRT) 14-089. ALL APPLICABLE SOLD AND UN-SOLD RRT VIN's HAVE BEEN LOADED. TO VERIFY THAT THIS RRT SERVICE ACTION IS APPLICABLE TO THE VEHICLE, USE VIP OR PERFORM A VIN SEARCH IN TECHCONNECT. ALL REPAIRS ARE REIMBURSABLE WITHIN THE PROVISIONS OF WARRANTY.
SUBJECT:
RG3 RG4 RJ3 RJ4 Radio Enhancements
OVERVIEW:
This bulletin involves inspecting and updating the radio software, if required.
MODELS:
NOTE: This bulletin applies to vehicles equipped with one of the following radios.
SYMPTOM/CONDITION:
**Duplicate song titles may be displayed in USB mode.
Last track is displayed but next track is being played.
SD, USB or BTSA modes may become non-functional for a given ignition cycle.
Track names may be displayed twice in USB or SD media modes.
Voice Recognition command "Set Temperature" may not respond in Fahrenheit. United Kingdom (UK) Vehicle only.**
DAB (Digital Audio Broadcast) is inoperative.
Wrong routing for addresses with a longitude between 0 and -1 degrees.
Speed Camera UK & Spain complaining that the speed camera feature was not available with the latest MY14 software.
DAB preset list on the top of the screen doesn't change while scrolling with steering controls.
Rear view camera jitter.
Tuner reception software enhancements.
HVAC temperature control enhancements.
SRT soft button missing for radios when vehicle is equipped with SRT feature (EMEA /LATAM markets only).
Postal Code smart speller logic enhancements (EMEA markets only).
AM/FM steering wheel mode switch button not working (LATAM markets only).
Navigation Lockout Disable while vehicle is in motion (EMEA markets only).
Removed network status indicators for SRT/APPS.
Voice Recognition (VR) says 'cancel' when starting (App) applications.
iPod would not resume playing after a VR session or phone call.
Removed the cell signal indicators in the SRT and Apps button on non-US vehicles.
rear camera may show a black screen for 3 seconds upon going to reverse.
Navigation would not start or would lose position.
Removal of parental control under Apps menu.
Turn by Turn navigation in the cluster set to ON by default.
Transfer button does not pick-up and transfer incoming call.
Some Russian letters are caps when they should be lower-case.
Touch screen locks up in navigation, when Russian is selected.
Address search availably when the vehicle is moving (EMEA markets only).
VR messages in Spanish talks to fast.
Recognition enhancement for Russian VR.
Hands free audio too low for non-amp vehicle (KL).
Intermittently "Registration expired" pop-up appears on display screen.
Arabic language for navigation only, not the keyboard (RJ3 RJ4 radio only).
Incorrect time to destination, when ignition is cycled.
Volume adjustment for navigation prompts, for phone call.
Incorrect rear to center fade displayed at start up.
Translation enhancements for French German and Spanish.
Right arrow doesn't work for advancing through preset.
Map zoom level reduced.
Park sense audio tone stuck on.
While in rear media the browser knob is disabled.
Varies POI not available for navigation.
Postal code search not working in some markets.
Horn sounds when locked is missing in the settings menu.
Mute button out of sync with mute in the hands free phone.
Enhancements my for hands free phone locking up.
Enhancements to quick search.
Backup camera active guide lines are missing.
Sound horn when locking, missing.
Erratic Interior ambient lamp menu being displayed.
Remove auto entry/exit from menu.
Remove hill start assist from menu, when not available.
Russian keyboard enhancements.
Polish text update.
Black screen intermittently displayed.
VR teleprompter translations.
Splash screen not showing after remote unlock.
Translation enhancement for Spanish, German, French and Russian.
Russian letters are in caps when they should be in lower case.
Nav locks up when Russian is selected.
VR Spanish language talks to fast when giving instructions.
Arabic language added to some features (RJ3 RJ4 radios only).
VR enhancements for Russian.
Route guiding enhancements. HVAC display enhancements.
DIAGNOSIS:
Using a Scan Tool (wiTECH) with the appropriate Diagnostic Procedures available in TechCONNECT, verify all audio systems are functioning as designed. If DTCs or symptom conditions, other than the ones listed above are present, record the issues on the repair order and repair as necessary before proceeding further with this bulletin.
If a customer's VIN is listed in VIP or your RRT VIN list, perform the repair. For all other customers that describe the symptom/condition, perform the Repair Procedure.
REPAIR PROCEDURE:
NOTE: Note: Software updates are now available for download to USB flash drive on the Uconnect web site and should be used instead of ordering a disc.
Has the USB flash drive been created?

Yes >>> Proceed to Step #4.
No >>> Proceed to Step #2.

Go to DealerCONNECT>Service>UCONNECT Information & Utilities> Uconnect Dealer software downloads to down load the files.
If a security message appears "Do you want to view only the web page content that was delivered securely?" press "NO" to continue, see ( 1).
NOTE: The Site is optimized for Microsoft Internet Explored 8 or 10. Use these software version if you encounter a problem downing load the Software.
NOTE: A Blank USB flash drive must be used to down load the software. Only one software update can be used on one USB flash drive.
NOTE: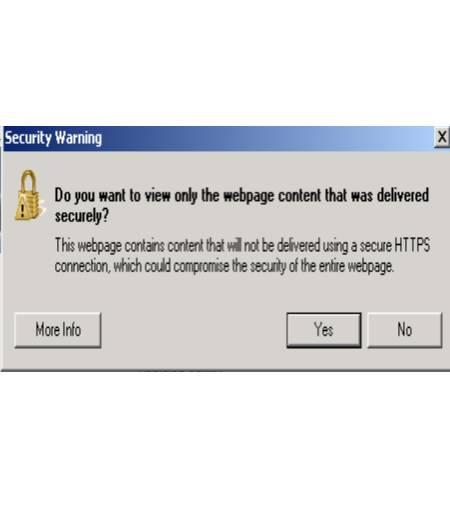 Fig. 1 Pop-up Security Message
If this Pop-up appears, select "NO" to continue.
---
NOTE: If the software update process is interrupted, aborted or failed, the process should be restarted.
NOTE: Do not cycle the ignition or touch the radio during the update process.
The update may take 20 minutes, no other actions will be needed.
After the update is done, the screen will display the software levels again.
Press "No" and turn off the vehicle. Unplug the USB flash drive. Open and close thedrivers door and let the Bus go to sleep.
NOTE: Make sure to leave ignition off, do not press the brake, and do not reopen any doors, so the modules will go to sleep.
Cycle the ignition one more time, turn the ignition on, then back off. Open and closethe drivers door and let the Bus go to sleep. This will complete the radio update. The bulletin has been completed.
NOTE: To get the SRT soft key to appear on the screen, it may take up to 3 or 4 key cycles.
POLICY:
Reimbursable within the provisions of the warranty.
TIME ALLOWANCE:
Labor Operation No:
Description
Skill Category
Amount
**18-60-02-HR
Radio, Check Software Level and, Perform Software Update (0 – Introduction)
6 – Electrical and Body Systems
0.5

Hrs.**

18-60-02-DR
Radio, Check Software Level Only (0 – Introduction)
6 – Electrical and Body Systems
0.2 Hrs
**18-60-02-HS**
Radio, Software – Create USB flash drive, From Uconnnect Website (One Time Only) (0 – Introduction)
6 – Electrical and Body Systems
0.2 Hrs
NOTE: The "One Time Only" LOP is used one time per dealer when down loading the software onto a USB flash drive. The dealer can only use the down load LOP, one time for each of the radios.
NOTE: The expected completion time for the flash download portion of this procedure is approximately 20 minutes. Actual flash download times may be affected by vehicle connection and network capabilities.
FAILURE CODE:
The dealer must choose which failure code to use. If the customer came in with an issue and the dealer found updated software to correct that issue, use failure code CC, for all other use failure code RF.
If the customer's concern matches the SYMPTOM/CONDITION identified in the Service Bulletin, than failure code CC is to be used.
If an available flash is completed while addressing a different customer concern, failure code RF is to be used.
| | |
| --- | --- |
| CC | Customer Concern |
| RF | Routine Flash |
---
---
Flash Availability – J2534/Pass Thru Device
Vehicle to Diagnostic Tool Reference Chart
Chrysler Recommended J2534 Devices
For Chrysler recommended J2534 device, see below table.
| | |
| --- | --- |
| J2534 Device | Firmware Version |
| CTC Vehicle Box * | 1.9 |
| UCAN 2 | 1.0 |
| Blue Streak -2534 Global Programmer | 2.10 |
| Actia I+ME Passthru | 2.07 |
* Chrysler recommends the CTC Vehicle Box Device for Chrysler SCI ECU reprogramming. SCI reprogramming is used on most PCMs and TCMs prior to the introduction of CAN bus vehicles which began in 2004 (Durango).
Compatible J2534 Devices
---
---
Bestseller No. 1
Autel Scanner Maxicom MK908P 2022, Upgrated of MS908S Pro & Same as Maxisys Elite, J2534 Programming Tool with No IP Restriction, ECU Coding, 36+ Service Functions, Bi-directional Scan tool
🎉【ECU Programming +Same Functions as Maxisys Elite】Coming with J2534 ECU reprogramming device, Autel MK908P is competent for ECU programming specific BENZ/ BMW. EXACTLY the same functions as Autel MaxiSys Elite, making itself the most cost-effective high-end diagnostic scanner in Autel product line. Also upgraded of MS908S Pro, Autel MK908P auto scanner enjoys superior configuration, serves 13 languages with no IP restrictions (MS908S Pro ONLY supports English).
🎉【Online Functions + Active Test】: There is online coding for VW, Audi, Porsche, Benz, BMW. Online configuration for Renault is unique among diagnostic industries. Besides, Autel MK908P features Bi-Directional Control (Active Test) to request information or command an actuator to perform specific tests, like cycling the a/c clutch on and off, perform an evaporative emissions leak test and more tests to solve the specific repairing work.
🎉【All-system Diagnose + 36 Service Functions】: Provided with full-systems diagnosis (ABS, SRS, Engine, Transmission, Brake System, Emission System, Fuel system, Light system, Wiper System, etc.). MaxiSys Pro MK908P also offers another 36+ service functions to help your repairing work faster, easier, and more professional. These service functions include immo keys/throttle/injecor coding/trans adaption/suspension/tyre retrofit/DPF/brake bleed/oil reset and more.
🎉【Common + Luxury Car Makes Coverage】MK908P is designed for repairing store, thus it enjoys extensive coverage for almost all car makes. Firstly, it has a wide range of compatibility for over 80 brands in the US, Europe and Asia. Besides, you have access to the newest model with fast-release software update. Moreover, There are basic diagnostic functions and most service / special functions compatible with Lamborghini, Ferrari, Aston Martin and Maserati etc.
🎉【Advanced Hardware + Reliable Service】As the advanced version of MS908P, MS908S, MS908E, MS908PS PRO, Autel MK908P runs much faster with android 4.4 OS, hexa-core processor, KitKat operating system, 2GB RAM & 64GB on-board memory, 10.1 inches LED screen ,20+ adapters and cables. 1-year free update, 12-month warranty, 30-day free return fees, 24-hour after-sales service are offered and promised.
Bestseller No. 2
Autel MaxiFlash Elite VCI J2534 Pass-Thru ECU Programming Tool Original for Autel MK908, MS908, MS908S, MK908P, MS908S Pro, MaxiSys Elite
👍【Works with Autel MK908, MS908(S/Pro), MK908P, MaxiSys Elite】Autel J2534 work with these tools to program ECUs on specific BMW/ BENZ for specific functions. ★★NOTE: J2534 CANNOT directly work with these single devices. After you received the J2534, you HAVE TO send us both the S/N(12 digits) of your tablet MS908S(etc.) and J2534. So, technically, Autel engineers can help you bind J2534 with your devices. If need any supports, contact us via: 🚘auteldirect @ outlook. com🚘 !
👍Fully compatible with both SAE J2534-1 and J2534-2 reprogramming standards and performs standard Pass Thru J2534 functionality. To check compatibility, please contact🚘auteldirect @ outlook . com🚘 directly for satisfaction-guaranteed support!
👍Compatible with Toyota Techstream, Volvo VIDA, Honda HDS, Jaguar-Land Rover IDS and BMW 3G for OEM diagnostics. To check compatibility, please contact 🚘auteldirect @ outlook . com🚘 directly for satisfaction-guaranteed support!
👍Built-In Wireless with advanced networking functions and data storage. Fast performance ensures reprogramming even the newest controllers & Internet upgradable and updatable.
👍Attention: 1. After you ordered and received the J2534, please send us both of the S/N(12 digits, at the back of the device) of the J2534 and your MK908(P) /MS908S (Pro)/ Maxisys Elite to us to bind the two device together. 2. The functions are NOT universally compatible. Please send VIN number to 🚘auteldirect @ outlook . com🚘 to check compatibility before your order.
Bestseller No. 3
VXDIAG VCX Nano Multiple GDS2 and TIS2WEB Diagnostic/Programming System for GM/Opel
Fully compatible with SAE-J2534-1 & SAE-J2534-2.How to resolve "License Expired" issue? Please download latest vx manager. After download, please install the new vx manager. Then connect device to laptop, laptop connecting network, open new vx manager, click "Firmware" to update, then click "Update license" to renew.
USB vehicle-to-PC connectivity; Firmware Updatable.CE and FCC compliance for hardware.
All current and most legacy vehicle protocols: CAN, UART, KW2000, Class2, GM LAN, etc.
Important Note & Packing Update - How to resolve "License Expired" issue? Please download the latest vxmanager from vxdiag official website.Use new vxmanager t update firmware and driver and then update your device authorization.Packing Update-Now package do not come with CD, please refer to the user manual for obtain software link.You can check the user manual carefully before you start using the device.If you need online techinical support,we can service for you any time.
Note - You can turn off anti-virus program before installing the software, make sure your computer at least 4GB.Tech2win software only installed on 32bit computer and on physical system. GDS software need install on 64bit computer and use vmware machine. (Note:Please follow the video step by step installation, don't install automatically) .
Bestseller No. 4
Autel MaxiCOM MK908P 2022 Car Diagnostic Scan Tool with J2534 ECU Programming/ Online Coding, Upgraded of MaxiCOM MS908S Pro/ Elite, 36+ Services, Bi-Directional Control, Full Diagnostics
👍【Advanced Diagnostic Scanner for ECU Programming】 : Autel MK908P has been designed to perform some of the most complicated engine diagnostics and reprogramming in BMW and Mercedes Benz. With the jbox/J2534 VCI or BMW Ethernet Cable, you can edit the cars performance data, like adjusting RPM, fuel injection, etc. A professional car diagnostics scanner to save time/effort on repairs. Form some of the most complicated engine diagnostics and reprogramming in BMW and Mercedes Benz.
👍【2022 Newest, 36+ Special Functions 】As 2022 newest professional diagnostic tool, Autel MaxiSys MS908S Pro +MV108 auto scanner can perform 30+ most useful service & special functions like Oil Reset, SAS Calibration, SRS, EPB, DPF Regeneration, Battery Registration, ABS bleed, Injector Coding, Key Fob Coding(add new keys) etc. NOTE: All service & Special functions are NOT universally compatible.
👍【Bi-Directional Control & Broad Vehicle Coverage】 Autel MK908P is an advanced bi-directional scan tool that can access and scan all available systems on 80+ makes and models to perform OE level diagnostics that are previously available to dealership tools only to read and clear codes, view live data, perform active tests/component tests to control various components/parts like fuel pump, cylinder, valves, abs motor, wipers, car windows, doors, sunroofs to test its functionality.
👍【Easy to Operate】 : The MK908P hardware can equal to a best rank android tablet in the market and that made the whole diagnostic procedure more quickly and precisely. Maxisys platform, cloud-based Maxisys provide a large amount of data about the diagnosis and repair advices, that's really helpful, whenever you encounter problems, you can find solutions from it.
👍【Compatible with Some Add-ons】 : Combination with Oscilloscope Maxi Scope MP408 and Digital Inspection Cameras MV108, the power of this tool is amazing and the detail you receive about every component of the vehicle makes pinpointing a problem painless. Affordable combination of MS908P and TS601 supports TPMS programming, which turns into a powerful diagnostic tool.
Bestseller No. 5
Autel MaxiSys MS908S Pro Diagnostic Scan Tool with J2534 ECU Programming/ Online Coding/ Adaption, Proven Solution for US Market, Bi-Directional, 31+ Special Functions, Same as MaxiSys Elite, MK908P
👍【SAME AS MK908P & BETTER TECH SUPPORT】 MS908S Pro has EXACTLY the same diagnostics and service functions as MK908P and Autel MaxiSys Elite. Unlike online product MK908P, MS908S Pro is a mature product that has been tested and approved by workshops across US! NOTE: MS908S Pro is for North & South America only, and support English only.
👍【J-2534 ECU PROGRAMMING】Autel MaxiSys MS908S Pro is a professional automotive diagnostic scanner that utilizes powerful Cortex A7+A15 six-core processor that can perform OE level all systems diagnostics and various special functions. With J2534 ECU Programming Device included, it is capable of replacing the existing software & firmware and programming new ECUs(PCM, ECM) for specific BMW and Benz.
👍【25 SPECIAL FUNCTIONS FOR PROS】 Autel MS908S Pro is an advanced auto scan tools that can perform various special functions: Oil Reset, EPB reset, DPF Regen, ABS Bleed, SAS, Battery Registration, Injector Coding, Power Balance, Crankshaft Variation Learn and etc. NOTE: Special Functions are NOT universally compatible. Pls send VIN to 🚘auteldirect @ outlook . com🚘 to check compatibility before purchase.
👍【EXTENSIVE VEHICLE COVERAGE】 MS908S Pro diagnostic scanner computer covers more than 80 US, Asian and European vehicle makes. The scan tool can work on most OBDII-compliant vehicles to locate check engine issues, 80+ makes and models to scan all available systems. For special functions, coverage varies across vehicles, please send VIN number to 🚘auteldirect @ outlook . com🚘 to check compatibility first.
👍【HASSLE-FREE PURCHASE】 Autel MaxiSys MS908S Pro car scanner comes with 12 Months FREE software updates and services and is backed by Amazon 30 Day Return Policy. If there are any issues or concerns, please contact us directly via 🚘auteldirect @ outlook . com🚘 for prompt tech support and best after-sales services! Purchase now to solve drivability issues, emission issues and save both time & money.
Bestseller No. 6
Autel Scanner MaxiCom MK908P 2022: Updated of MS908S Pro Same as Maxisys Elite, J2534 Programming Tool with No IP Restriction, Advanced ECU Coding, 36+ Service, Active Test, Free Car Battery Tester
🚗【Same as MaxiSys Elite, No IP Restriction】: Covering 99% of the vehicle models from 1996 to 2022. Based on the MS908S Pro, Autel MK908P diagnostic scan tool enjoys superior hardware configuration, serves 13 languages with no IP restrictions (MS908S Pro ONLY supports English) Lifetime after-sales service and professional technology support have no difference from offline retail version. Feel free to message us with any problems. Present battery tester as a gift (worth 49 bucks).
🚗【ECU Programming & Coding, Guru for Local Smith】: To broaden vehicle business and increase your revenue, the Autel scanner MK908P assigns advanced ECU programming and coding to 1) customize your car, 2) unfold the hidden features, 3) disable the annoying functions to improve car performance, but also reprogram the adaptive data to certain components after repairs or replacements. The specific operation varies by model.
🚗【36+ Service Functions, Best for Repair Shops】: Designed for large-scale garages and equipped with 36+ repair functions, Autel MK908P covers 99% of cars in the market. This make it the most valuable scanner to serve as many cars as possible in your shop. The 36+ functions include Oil Reset, TPMS, ABS Bleeding, EPB, SAS, Injector Coding, BMS, Suspension, etc. Please be noted MK908P programming tool will always keep pace with newer functions and continuous upgrading, never out of date.
🚗【High-end Online Functions, OE-level Auto Scanner】: MK908P diagnostic tool explores all the systems and scans hidden DTCs. For quickly locating the fault, active test sends commands directly to vehicle modules to perform specific tests on windows, sunroofs, wipers, relays, injectors, and actuators, etc. Newly launched online functions obtain the online data from the server like online account login service for VW, Audi, Skoda; online configuration for Renault; online coding for Porsche; etc.
🚗【Top-end Configuration, Ultra-Fast Speed】: Same functions with MaxiSys Elite, but configured with 2G+64G memory Hexa-core processor, 10.1" screen, and 15000mAh battery to accelerate diagnostics and repair. 2022 MK908P diagnostic scanner offers more to expand the market and raise income for example power balance for Ford, Chrysler, GM; personalization for VW, Audi, Toyota; guided functions for VW, Audi, Skoda; etc.
Bestseller No. 7
LAUNCH X431 PAD V All-in-One Automotive Scan Tool,J2534 ECU Programming & Coding,Topology Map,Guided Function,All System Intelligent Diagnostics Tool,Bi-Directional Control, 50+ Services
【High-End Diagnostic Tool for ECU Pro-gramming & Coding:14 Brands】LAUNCH X431 PAD V comes with J2534 protocols,which empowers you to program the blank ECUs,match the components,re-flash the second-hand ECUs,etc.you can perform OE-level diagnosis and pro-gramming for more accurate diagnosis and efficient car repair jobs to win more business!
【Online Functions +Flash Hidden Features】this diagnostic tool helps you pass-thru the gateway to access the data for coding.(for 2017 and later Chrysler,Dodge,Jeep,Alfa Romeo and Fiat).Guided Function (for V.A.G) ,step by step to guid you to diagnosis.Make full use of hidden features or disable car's annoying functions.Offline Coding.Modification for BMW 👍it is designed for any professional mechanics and independent repair shops.save time and effort on repairs.
【Topology Map & All System Diagnosis for Deep Inspection】X431 PAD V auto scan tool new-added topology module mapping,it is easy to view the communication structure between modules.you can directly access all system to perform functions,view live data in graph.
【50+ Maintence Functions & Full Bi-Directional Control】LAUNCH X431 PAD V car diagnostic tool supports 50+ reset service,like key IMMO,abs bleeding,GEARBOX,Oil Reset,Injector coding, Gear Reset, SAS Reset, TPMS Reset, DPF Reset, BMS Reset, ETS Reset, AFS Reset, EGR Adaptation,etc.it also can perform bi-directional control on all systems,like ABS,fuel pumps,windows,doors,etc.
【99% Coverage & Support J2534/DoIP/CAN FD/RP1210 Diagnostic Protocols】LAUNCH X431 PAD V supports API standard Communication Interface,with the VCMI Vehicle Communication Measurement Interface.support D-PDU/J2534/RP1210 Protocols👍LAUNCH X431 PAD V scan tool support PEV ( pure electric vehicle ).👍Heavy Duty Software (need extra buy)diagnose gasoline vehicles & 24V Diesel Trucks/buses/trailers/excavators/construction machinery/pick-up/etc.
Bestseller No. 8
Autel Scanner MaxiSys Elite II, 2022 Newer Upgrade of MS Elite/ MK908P/ MS908S PRO/ MK908 Auto Scan Tool, J2534 ECU Programming & Coding, Bi-Directional Control, 38+ Service, OE All Systems Diagnostic
🥇【2022 NEWEST VERSION, 𝐒𝐀𝐕𝐄 $380 THAN ELITE】Upgrade of MS908S PRO/ MK908P/ MK908/ MS908/ MaxiSys Elite, Same Hardware as MS909, all-in-one scanner Autel Elite II features with ECU Programming & Online Coding & Offline Adaptation, 38+ Services, Active Test, System Diagnostics, added new special function: McLaren/Tesla diagnosis, Oscilloscope, Battery Test, MaxiFix Cloud Service, Autel Cloud Reports, Remote Expert, etc. Glad tidings: No IP restriction, it can be used in any region.
🥇【ECU PROGRAMMING ON BENZ&BMW + J2534(VALUE $1099)】Autel Elite II performs same ECU programming as MaxiSys Ultra MS919 MS909, which supports replace existing software/ firmware, reprogramming component control modules after replacement, solve fuel efficiency/power loss/durability issues etc. For Benz & BMW, Autel Elite II will go into ECU modules execute "Programming➞Backup-Restroration" or "Initial start up➞Control module replacement" operations to renew/upgrade latest vehicles software.
🥇【ECU ONLINE CODING, ECU OFFLINE ADAPTION】Autel Elite II automotive diagnostics scan tool has powerful ECU Online Coding for refreshing hidden function, forbid annoying features, customize OE-settings, match/learn/code newly replaced ECU for 99% vehicles for Suzuki, Mitsubishi, Honda, Chrysler, VW, GM, etc. ECU Offline adaptive programming is also embedded into Autel Elite II for Ford Mazda Jaguar Vaxhall Opel, etc. Please send VIN to 🚘auteldirect @ outlook . com🚘 to check compatibility.
🥇【38+ SERVICES, BI-DIRECTIONAL CONTROL】Same as MS919/MS909, Autel OBD2 scan tool MaxiSys Elite II has 38+ maintenance for 10,000+ vehicle, such as Oil Reset, EPB, SAS, A/F Setting, Throttle, Suspension, Headlamp, IMMO Keys, Injector Coding, Power Balance, BMS Reset, Airbag. Bi-directional Control MS Elite 2 will transmit command to ECUs and perform active tests like Cooling Fan, A/C Clutch On/Off, Compression Test, ABS Motor Pump, Windows/Wipers/ Sunroof/ Doors Test, Personalized, EGR Test, etc
🥇【ALL SYSTEM DIAGNOSTICS, MCLAREN TESLA DIAGNOSIS, 10000+ VEHICLE COVERAGE】Autel Auto scanner MaxiSys Elite II scan teeny fault codes quickly on all available systems, such as Engine, Trans, AT, ABS, SRS, IMMO, Cooling, Door Lock, A/C, BMS, TPMS, etc. Highlights Features of diagnosing McLaren, Tesla, VAG, Ferrari, Rolls-Royce, Aston Martin etc making Autel Elite II shining, while MK908/ MK908P/ MS908S Pro never done. 10000+ vehicle coverage in US/EU/Asia is another bright spot.
Bestseller No. 9
VXDIAG VCX Nano Diagnose and Programming Tool Compatible for Toyota and Lexus SAE J2534 WiFi Version
VCX is designed on the basis of the latest automotive international standards so that it can support many professional automotive diagnostic applications
WIFI Version VXDIAG VCX Nano compatible for TOYOTA and Lexus, support both USB connection and WIFI connection, support latest version software, Compatible with varieties protocols. can be very easy to connect various automotive bus to a PC
OS support both WINDOWS XP and Windows 7, Software support multi-languages: Chinese, English, French, Italian, Spanish, German, ec
You can download the vxmanager online, if you have any license problem please send us the serial number to extend the license
One year warranty. Please contact us via order center if you have any problem with software installation
Bestseller No. 10
Autel Maxicom MK908P, 2022 Autel Scanner Same as Maxisys Elite/MS908Pro Automotive Diagnostic Scan Tool J2534 Programming & Coding , 36+ Special Function, Bi-Directional Control
MK908P Same as MS Elite, But More Cost-Effective: Like the Autel MaxiSys Elite, Autel MaxiCOM MK908P also features advanced diagnostics, 38+ maintenance functions, online ECU programming & coding, bi-directional control, etc., but cost nearly $400 less. Meanwhile, the latest version–MK908Pro in 2022 can be updated to support more car models & brands, such as Lamborghini, Ferrari, Aston Martin, Maserati, etc., almost fully covering all the cars in the workshops or garages.
ECU Programming & Advanced Coding: Autel MK908P, compatible with J2534 interface, features online ECU programming (for BMW & Benz) and ECU coding, allowing directly downloading the OEM software from the OEM online server. With this Autel high-end diagnostic tool, you can program blank ECUs, reprogram second-hand ECUs, upgrade ECU software, at your fingertips. Also, via ECU coding, MK908P can match/initialize/recode components after replacing modules, refresh hidden features, or modify cars.
38+ Special Functions Covering 99% Maintenances: The Autel MK908P provides 38+ special functions, including 26 hot reset functions, for large auto repair shops to do quick car repairs & maintenances. It includes Oil Reset, EPB Reset, TPMS Reset, BMS Reset, ABS Bleeding, Airbag Reset, DPF Reg., IMMO Service, Injector Coding, SAS Calibration, Suspension Calibration, Throttle Adaption, Sunroof Initialization, Seats Calibration, Language Change, Headlight Matching, A/F Setting, Trans Adaption, etc.
Bi-Directional Control to Fast Locate Faults: When you doubt whether there's a fault or not in a certain component, or when you are not sure where the fault is, Autel MK908P–the bi-directional scanner can help you quickly cope with these problems. It can command ECUs to drive the actuators and then monitor the operation of the actuators to precisely locate the faults via bi-directional control, such as turning the fuel pump on and off to determine whether it's a wiring, relay, or pump issue.
Advanced Hardware & Perfect After-Sales: The Autel MK908P is an ideal auto diagnostic tool for large repair shops to troubleshoot vehicle issues. Based on the multitask-capable Android 4.4.2 OS, utilizing the powerful Samsung 6-core processor and a 10.1" capacitive touch screen, the MK908P offers OE-level diagnostics, ECU coding, and BMW/Benz ECU programming. Combined with 1-year free updates, a 12-month warranty, 30-day free returns, and 24/7 after-sales, MK908P makes your purchase worry-free.
Last update on 2022-05-18 / Affiliate links / Images from Amazon Product Advertising API
Last update on 2022-05-18 / Affiliate links / Images from Amazon Product Advertising API