NUMBER: 23-036-15
GROUP: Body
DATE: October 07, 2015
SUBJECT:
Door Panel Armrest Pull Cup Loose And/Or Audio Induced Buzz/Rattle
OVERVIEW:
This bulletin involves inspecting/replacing the armrest door pull cup fastener.
MODELS:
NOTE: This bulletin applies to vehicles within the following markets/countries: NAFTA
NOTE: This bulletin applies to vehicles built on or after July 20, 2014 (MDH 0720XX) and on or before July 31, 2015 (MDH 0731XX).
SYMPTOM/CONDITION:
The customer may describe an audio induced buzz/rattle from the door panel or a loose door armrest pull cup.
This condition may be caused by the door panel armrest pull cup attachment screw not tightened securely.
DIAGNOSIS:
If the customer describes the symptom/condition listed above, perform the Repair Procedure.
PARTS REQUIRED:
| | | |
| --- | --- | --- |
| Qty. | Part No. | Description |
| AR | 06508990AA | Screw, M4.2×1.7×23 with captured washer |
REPAIR PROCEDURE:
NOTE: The following service procedure is applicable to the right and left doors.
Remove the pull cup mat (1) from the door panel armrest handle (Fig. 1).
Verify that the pull cup screw (2) on both doors is tight or can be tightened securely (Fig. 1).
Is the screw on both doors tightened securely?

Yes>>> This Bulletin has been completed.
No>>> One or both screws cannot be tightened securely. Continue with the Repair Procedure Step #4.

Remove the screw(s) that will not tighten and obtain a NEW screw from the Parts Required section of this bulletin.
Install a NEW screw (2) in the door armrest handle pull cup and tighten the screw securely (Fig. 1).
Install the pull cup mat (1) in the door panel armrest handle ( 1).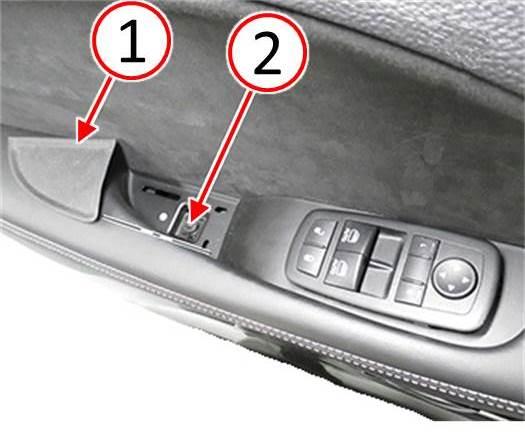 Fig. 1 Door Armrest Attachment Screw
1 – Pull Cup Mat
2 – Pull Cup Screw
---
POLICY:
Reimbursable within the provisions of the warranty.
TIME ALLOWANCE:
| | | | |
| --- | --- | --- | --- |
| Labor Operation No: | Description | Skill Category | Amount |
| 23-20-23-95 | Screw, Front Door Pull Cup – Inspect, Tighten or Replace (Left and Right) (1 – Semi-Skilled) | 6 – Electrical and Body Systems | 0.2 Hrs. |
FAILURE CODE:
---
23-036-15

---
Sale
Bestseller No. 2
Armor All Car Cleaning Wipes and Protectant Wipes, Interior Car Wipes - 2 Count
Car Interior Wipes: Two 50 count canisters of Armor All Car Cleaning Wipes and Protectant Wipes
Dirt and Grime Removal: Car interior cleaner wipes clean dirt, grime and dust without damaging interior car surfaces
Prevents Premature Aging: Car protectant wipes help to prevent cracking, fading, discoloration and premature aging
No Greasy Residue: Lint-free, disposable cloths are easy to use without leaving greasy residue on your hands
Moisture Lock Lid: Features Moisture Lock Lid for year-round freshness and quick touch-ups
Bestseller No. 4
Car Interior Cleaner Wipes by Armor All, Car Cleaning Wipes with Orange Cleans Dirt and Dust in Cars, Trucks and Motorcycles, 25 Count
Effective cleaning in a convenient and disposable wipe
Natural, matte finish leaves behind a subtle orange fragrance
Easily removes ground-in dirt, dust and grime
Great for the whole car (dash, vinyl, fabric, carpet, consoles, leather, and more)
Won't dry out, damage, or fade automotive surfaces
Sale
Bestseller No. 5
Armor All Interior Car Cleaning Wipes Kit, Disinfects, Protects, and Cleans Car Interiors, Includes Leather Care Wipes, Glass Wipes, Disinfectant Wipes, and Protectant Wipes, 4 Count
[Interior Car Cleaning Kit]: Armor All Car Interior Car Cleaning Wipes Kit includes Armor All Leather Care Wipes, Armor All Glass Wipes, Armor All Disinfectant Wipes, and Armor All Protectant Wipes
[Car Cleaning Wipes]: Four count car wipes that keep car interiors looking sparkly clean while not damaging surfaces
[Car Leather Care Wipes]: Preserves the plush appearance and conditioned feel of leather upholstery
[Car Glass Wipes]: Leaves a crystal clear, streak-free shine on delicate glass surfaces in car interiors
[Car Disinfectant Wipes]: Reveals the car's rich, natural beauty while lifting away dirt and debris without harming delicate automotive surfaces
Sale
Bestseller No. 9
Armor All 17501C 30 Count Glass Wipe
Specially formulated for the toughest automotive jobs
Incredible clarity and shine
Easily removes filmy residue, road grime, fingerprints and more
Residue-free; no streaking or hazing
Ammonia-free. Safe on auto glass
Last update on 2022-08-16 / Affiliate links / Images from Amazon Product Advertising API
This product was presentation was made with AAWP plugin.