NUMBER: 23-036-15
GROUP: Body
DATE: October 07, 2015
SUBJECT:
Door Panel Armrest Pull Cup Loose And/Or Audio Induced Buzz/Rattle
OVERVIEW:
This bulletin involves inspecting/replacing the armrest door pull cup fastener.
MODELS:
NOTE: This bulletin applies to vehicles within the following markets/countries: NAFTA
NOTE: This bulletin applies to vehicles built on or after July 20, 2014 (MDH 0720XX) and on or before July 31, 2015 (MDH 0731XX).
SYMPTOM/CONDITION:
The customer may describe an audio induced buzz/rattle from the door panel or a loose door armrest pull cup.
This condition may be caused by the door panel armrest pull cup attachment screw not tightened securely.
DIAGNOSIS:
If the customer describes the symptom/condition listed above, perform the Repair Procedure.
PARTS REQUIRED:
| Qty. | Part No. | Description |
| --- | --- | --- |
| AR | 06508990AA | Screw, M4.2x1.7x23 with captured washer |
REPAIR PROCEDURE:
NOTE: The following service procedure is applicable to the right and left doors.
Remove the pull cup mat (1) from the door panel armrest handle (Fig. 1).
Verify that the pull cup screw (2) on both doors is tight or can be tightened securely (Fig. 1).
Is the screw on both doors tightened securely?

Yes>>> This Bulletin has been completed.
No>>> One or both screws cannot be tightened securely. Continue with the Repair Procedure Step #4.

Remove the screw(s) that will not tighten and obtain a NEW screw from the Parts Required section of this bulletin.
Install a NEW screw (2) in the door armrest handle pull cup and tighten the screw securely (Fig. 1).
Install the pull cup mat (1) in the door panel armrest handle ( 1).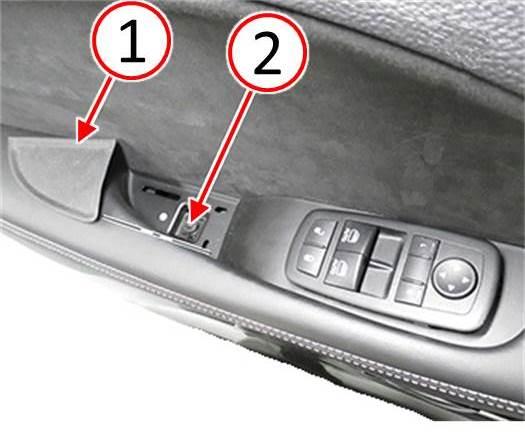 Fig. 1 Door Armrest Attachment Screw
1 - Pull Cup Mat
2 - Pull Cup Screw
---
POLICY:
Reimbursable within the provisions of the warranty.
TIME ALLOWANCE:
| Labor Operation No: | Description | Skill Category | Amount |
| --- | --- | --- | --- |
| 23-20-23-95 | Screw, Front Door Pull Cup - Inspect, Tighten or Replace (Left and Right) (1 - Semi-Skilled) | 6 - Electrical and Body Systems | 0.2 Hrs. |
FAILURE CODE:
---
---
Bestseller No. 1
Armor All Cleaning and Leather Care Wipes, 30 Count Each (Pack of 2)
Convenient, disposable wipes protect your car's rich look
Leather Wipes clean, condition and protect leather
Leather Wipes renew and revive leather's natural beauty
Cleaning Wipes easily remove ground-in dirt, dust and grime
Cleaning Wipes are lint free, won't leave greasy residue on hands
Sale
Bestseller No. 2
Armor All Cleaning Wipes (25 ct) - 2 Pack
PROTECT: Armor All fights fading, aging, cracking, and provides UV protection. Their wipes are perfect for your car's dash, vinyl, consoles, leather and more.
RESTORE: Bring your car back to that "like new" feel. Cleaning Wipes add deep, rich beauty to dashes, and other interior surfaces. They also renew and revitalize vinyl, rubber, and plastic.
FRESH: Armor All Cleaning Wipes keep your car clean from all the dirt and debris that finds its way inside your car's interior. Easily remove even ground-in dirt and grime. Wipes won't dry out, damage or fade automotive surfaces.
CONVENIENT: Moisture Lock Lid is guaranteed to keep your wipes fresh for long lasting cleaning power. Wipes are also lint-free and won't leave greasy residue on your hands.
SPECIFICATIONS: Package includes: (2) tubes of Armor All Cleaning Wipes - 25 sheets.
Bestseller No. 3
Sale
Bestseller No. 4
Armor All 17497C 30 Count Cleaning Wipes (25Ct + 20%)
Effective cleaning in a convenient, disposable wipe
Lint-free - won't leave greasy residue on hands
Easily removes ground-in dirt, dust and grime
Great for the whole car (dash, vinyl, fabric, carpet, consoles, leather, more)
Won't dry out, damage, or fade automotive surfaces
Bestseller No. 5
Armor All 44983 Protectant, Cleaning and Glass Wipe - 25 Sheets, (Pack of 3)
Specially formulated for the toughest automotive jobs
Easily removes filmy residue, road grime, bugs, fingerprints and more
Natural matte finish and will not dry out, damage or fade automotive surfaces
Great for dash, vinyl, fabric, carpet, consoles, leather and more
Bestseller No. 6
Bestseller No. 7
Sale
Bestseller No. 8
Bestseller No. 9
Armor All 18581B Leather Care Wipe (30 count)
Cleans, conditions and protects leather
Luxurious wipes renew and revive leather's natural beauty
Cleansing agents reach into the grain to safely remove dirt & soil
Conditioners enhance natural beauty, restore supple feel
Powerful blocking agents help protect against stains, cracking & fading
Sale
Bestseller No. 10
Armor All 18240 1 pack of 12 Ultra Shine Wash Wipes-12 XL Wipes
Clean your car anytime, anywhere without using water
Extra large, pre-moistened wipes remove, dirt, dust, road grime, and more
No bucket and hose required
Effectively cleans and details all exterior automotive surfaces
Great for cleaning your whole car or touch-ups
Last update on 2019-11-16 / Affiliate links / Images from Amazon Product Advertising API
Last update on 2019-11-16 / Affiliate links / Images from Amazon Product Advertising API