NUMBER: 23-044-15
GROUP: Body
DATE: November 11, 2015
THIS SERVICE BULLETIN IS ALSO BEING RELEASED AS RAPID RESPONSE TRANSMITTAL (RRT) 15-111. ALL APPLICABLE SOLD AND UN-SOLD RRT VIN's HAVE BEEN LOADED. TO VERIFY THAT THIS RRT SERVICE ACTION IS APPLICABLE TO THE VEHICLE, USE VIP OR PERFORM A VIN SEARCH IN TECHCONNECT. ALL REPAIRS ARE REIMBURSABLE WITHIN THE PROVISIONS OF WARRANTY.
SUBJECT:
Poor Wheel Opening Molding Adhesion To The Body
OVERVIEW:
This bulletin involves inspecting and if necessary, replacing the affected wheel opening molding.
MODELS:
NOTE: This bulletin applies to vehicles within the following markets/countries: NAFTA.
NOTE: This bulletin applies to DJ Power Wagon model and DS Rebel model vehicles built on or after June 15, 2015 (MDH 0615XX) and on or before July 28, 2015 (MDH 0728XX) equipped with Black Wheel Flares (sales code MMZ).
SYMPTOM/CONDITION:
The customer may describe what appears to be a gap between the wheel opening molding and the body of the vehicle.
Wheel opening moldings may separate at body due to insufficient adhesive bond strength (Fig. 1).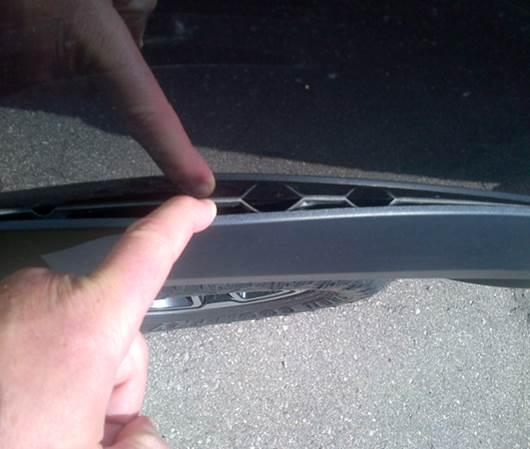 Fig. 1 Wheel opening molding separation
DIAGNOSIS:
If a customer's VIN is listed in VIP or your RRT VIN list, perform the repair. For all other customers that describe the symptom/condition listed above, perform the Repair Procedure.
PARTS REQUIRED:
REPAIR PROCEDURE:
If wheel opening molding separation is visible at the body, the affected wheel opening molding will need to be replaced.
Was any seam separation found at the wheel opening moldings?

YES>>> Replace the affected wheel opening molding as require if signs of separation are shown. Refer to 23 – Body/Exterior/MOLDING,Wheel Opening/Removal/Installation for the applicable Front or Rear Replacement Procedure(s).
NO>>> Wheel opening molding separation was not found. This bulletin has been completed. Use LOP (23-02-60-91) to close the active RRT.
POLICY:
Reimbursable within the provisions of the warranty.
TIME ALLOWANCE:
| | | | |
| --- | --- | --- | --- |
| Labor Operation No: | Description | Skill Category | Amount |
| 23-02-60-91 | Wheel Opening Molding – Inspect (1 – Semi-Skilled) | 6 – Electrical and Body Systems | 0.2 Hrs. |
| 23-02-60-54 | Front Wheel Opening Moldings Replace Left Front Individually (1 – Semi-Skilled) | 6 – Electrical and Body Systems | 0.8 Hrs. |
| 23-02-60-55 | Front Wheel Opening Moldings Replace Right Front Individually (1 – Semi-Skilled) | 6 – Electrical and Body Systems | 0.8 Hrs. |
| 23-02-60-56 | Rear Wheel Opening Moldings Replace Left Rear Individually (1 – Semi-Skilled) | 6 – Electrical and Body Systems | 1.0 Hrs. |
| 23-02-60-57 | Rear Wheel Opening Moldings Replace Right Rear Individually (1 – Semi-Skilled) | 6 – Electrical and Body Systems | 1.0 Hrs. |
FAILURE CODE:
---
23-044-15
23-044-15

---
Sale
Bestseller No. 1
Meguiar's Ultimate Polish, High-Gloss Pre-Wax Car Polish, 20 fl. oz.
PREPS SURFACE: Pre-waxing glaze that prepares the surface for wax while offering deep reflections and high gloss
BEST CAR GLOSS: Conditioning oils add depth of color and maximum gloss prior to waxing, especially on dark colored cars
REMOVE SWIRLS: Quickly and gently removes fine swirls and towel marks for mirror-like reflections
SAFE FOR CLEAR COATS: Safe and on all glossy paints, including clear coats
FLEXIBLE APPLICATION: Safe and effective by hand or dual action polisher like Meguiar's MT300 Dual Action Polisher
Sale
Bestseller No. 2
Nu-Finish NF-76 Liquid Car Polish
Nu Finish Liquid Car Polish keeps your car exterior looking new with only one application per year
Delivers impressive shine and protection without rubbing or buffing
As the only polish available with no wax, the Nu Finish formula is specifically made to protect your car's paint and clear-coat finish
Perfect for use on cars, fiberglass boats, RVs, and even chrome surfaces
Apply polish with a damp cloth, let dry to a haze, and wipe off
Bestseller No. 3
Meguiar's G17220 Ultimate Compound, Color & Clarity Restorer, Scratch & Swirl Remover, 591 ML, 1 PT 4 FL oz
REMOVE PAINT DEFECTS: The ultimate product for removing oxidation, scratches, water spots, and blemishes without scratching
BEST CAR SCRATCH REMOVER: Cuts as fast as harsh abrasives restoring surface clarity without scratching or swirling
SAVES TIME: The clear coat safe formula dramatically reduces the time and effort to restore abused or neglected paint finishes
STUNNING FINISH: Exclusive micro-abrasive technology leaves a "like new" finish and adds gloss in one easy step
SAFE FOR CLEAR COAT: Safe and effective on clear coat and single stage paints, and can be applied by hand or dual action polisher like Meguiar's MT300 Dual Action Polisher
Bestseller No. 4
Meguiar's M20508 Mirror Glaze Ultra Finishing Polish, 8 oz
EXCEPTIONAL RESULTS: Advanced technology formula provides a deep gloss and rich, swirl-free results
NO MORE SWIRLS: Permanently removes swirls and light defects from all paint
STUNNING SHINE: Produces deep reflections and high gloss
EASY TO USE: Smooth buffing feel, easy wipe-off, and fast clean-up
MULTIPLE WAYS TO APPLY: Formulated for use by Hand, DA Polisher, or Rotary Buffer
Bestseller No. 5
Turtle Wax T-241A Polishing Compound & Scratch Remover - 10.5 oz. , White
Heavy duty paste that cleans dull, oxidized finishes
Quickly and easily penetrates through the oxidized surface to remove scratches, blemishes and stubborn stains
Restores faded finishes
Recommended for rubbing down between coats of newly sprayed lacquer and acrylic car finishes
Easy to use formula
Bestseller No. 6
Carfidant Scratch and Swirl Remover - Ultimate Car Scratch Remover - Polish & Paint Restorer - Easily Repair Paint Scratches, Scratches, Water Spots! Car Buffer Kit
EASY SCRATCH & SWIRL REPAIR - If your car has light scratches, swirls, or other marks - you can easily fix that with our Scratch & Swirl Remover Kit! Using the included buffer pad, our specially formulated compound will allow you to easily remove and "erase" years of wear and tear from your vehicles paint and overall appearance! (Please note if you have very deep scratches that can be easily felt with the tip of your fingernail the product may not help as much.)
ULTIMATE PAINT RESTORER - Not only will this remove swirls and scratches, it will restore the gloss and shine of your paint and bring it back to its original brilliance! The special rubbing compound will remove water spots, oxidation and other contaminants from your paint! Easily buff it all out by hand with our included buffer pad!
PREMIUM CHEMICALS - We formulate all our products to ensure they are the best! Professional grade, but easy enough for anyone to use! We use only the absolute best chemicals and ensure there are no unnecessary color dyes or scents! You get the best cutting polishing compound in a specifically formulated formula with a kit that lets you go right to work!
SAFE FOR ALL PAINT COLORS - Our Ultimate Car Paint Scratch Repair Kit is safe to use on all paints and colors. You can safely use it on any clearcoat, single stage, or multi stage paint!
MADE IN USA - CARFIDANT 100% SATISFACTION - Don't take our word that this is the best in car detailing products and car cleaning supplies, if you are not 100% satisfied we will refund you in full! We are professionals! We are enthusiasts! We spent years developing our professional automotive detailing products and believe in them 100%! We use them. Our friends use them. If you are not 100% satisfied with any of our products, we will give you a full refund! Send us a message!
Bestseller No. 7
Chemical Guys Gap_106_16 All-in-One Polish + Shine + Sealant (16 oz)
Silicone Free Means You Get True Results, What You See Is What You Get Even After Weeks Of Washing This Is A True Polish That Prepares Any Paint For The Perfect Sealant
Works Great As A Final Step Product That Produces An Exceptional Shine
Rapidly Removes Light Scratches, Key Scratches, And Most Imperfections, Removes Light Scratches And Swirl Marks Resorting Color And Shine
Package Weight :15.0Lbs
Brings Back That Showroom Shine, Removes Light Scratches And Swirl Marks Resorting Color And Shine, Body Shop Safe, Premium Gloss And Shine After Water Sanding
Sale
Bestseller No. 9
SHINE ARMOR Ceramic Coating Fortify Quick Coat Car Wax Polish Spray Waterless Wash & Wax Hydrophobic Top Coat Polish & Polymer Paint Sealant Detail Protection
Advanced Formula 3-in-1. Our fortify quick coat is your all-in-one ceramic coating hydrophobic spray. Shine Armor Fortify Quick Coat ceramic car wax provides a waterless wash, coat, and shine, all-in-one convenient product.
No Streaking, Smearing Or Scratching. Shine Armor Fortify Quick Coat premium formula ceramic car coating is a gentle and effective car polish for any vehicle! Get a clean, shiny finish without hurting your car's paint.
Cuts Dirt, Grime & Grease. Our Quick Coat ceramic wax car sealant eliminates dirt, grime & grease instantly! Our signature 3-in-1 formula gives you a waterless car wash, coat and shine for a clean, showcase look.
Safe For All Surfaces. Use this car wax spray-on automobiles, boats, motorbikes, RVs, four-wheelers and more! This spray wax is the perfect blend of surfactants and SiO2 ceramic-coating science.
Superior Products. This means superior shine for your cars! Our ceramic quick coat also works as a sealer to give your vehicle a clear shield of protection while also providing a beautiful gloss. Our ceramic coat is the best hydrophobic car spray available!
Sale
Bestseller No. 10
Meguiar's Ultimate 3 Step Paint Care Kit, Car Detailing and Polishing Kit
This all in one kit gives you all the premium product and accessories you need to remove paint defects, maximize shine and get long-lasting protection
Ultimate Compound gently cleans paint with micro-abrasives to remove oxidation, scratches, water spots and blemishes without scratching
Ultimate Polish further refines paint and adds conditioning oils for maximum gloss and depth of color
Last update on 2022-08-13 / Affiliate links / Images from Amazon Product Advertising API
This product was presentation was made with AAWP plugin.