WARRANTY BULLETIN
NO: D-16-28 (Rev. A)
DATE: March 1, 2017
---
**********************Revisions are noted in Red**********************
PURPOSE:
To announce the addition of Exterior Mirrors to the Vehicle Digital Imaging Pre-Authorization program in an effort to collect, monitor and correct quality issues in a timely and efficient manner.
TIMING:
Vehicles received for repair from December 1, 2016 to December 31, 2017
ACTION:
The following repairs have been added and will now require Pre-Authorization through the Vehicle Digital Imaging Program under the Category "Special":
Exterior Manual Mirrors (LOP 23-04-10-XX)
Exterior Mirror Cap (LOP 23-04-19-XX)
Exterior Power Mirror (LOP 23-04-20-XX)
Exterior Power Mirror (LOP 23-04-21-XX)
Exterior Power/Heated/Folding Mirror (LOP 23-04-22-XX)
Exterior Mirror Glass (LOP 23-04-25-XX)
Exterior Door Mirror (LOP 23-04-27-XX)
Exterior Mirror Bezel (LOP 23-04-28-XX)
Exterior Mirrors, Exterior Mirror Cap and Exterior Mirror Bezel replacements on all Model Year vehicles will require Pre-Approval. This Pre-Authorization will be administered through the Vehicle Digital Imaging Pre-Authorization program.
When submitting a Mirror request, select the Category of "Special" for submission.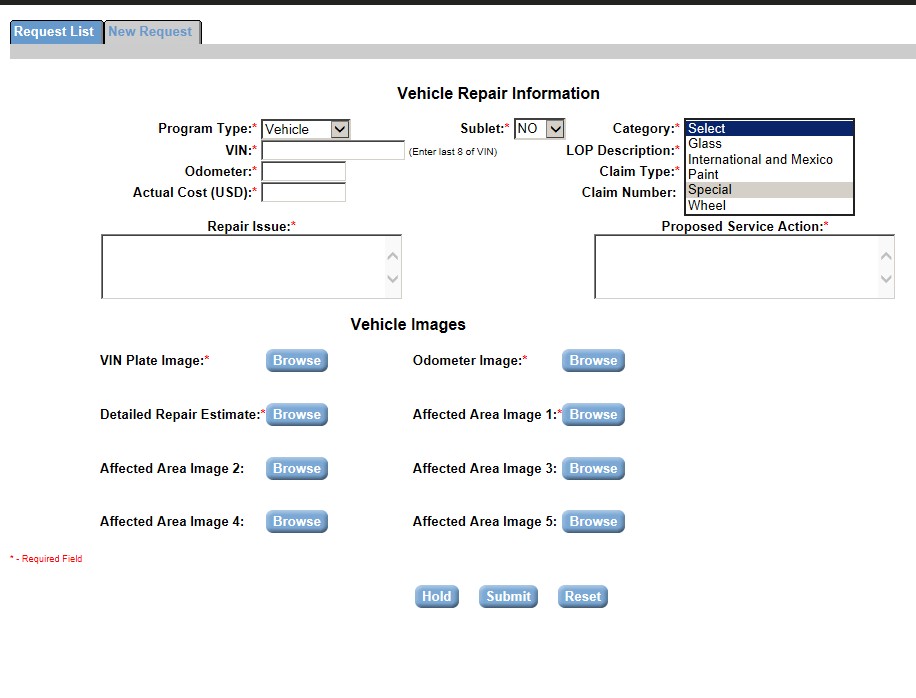 A list of LOPs for repairs that require Vehicle Digital Imaging pre-authorization can be found in:
DealerCONNECT>Service>Warranty Administration>Pre-Authorization Programs>Repair Pre-authorization LOP Checker
COMDASH>Mopar Technical Service>Warranty Pre-Authorization Programs>Vehicle Digital Imaging LOPs Requiring Pre-Authorization.
Please ensure that all affected dealership personnel are aware of this bulletin.
WARRANTY OPERATIONS
---
---
NO: D-16-28
DATE: March 1, 2017
https://www.nhtsa.gov/recalls?nhtsaId=10140011
https://static.nhtsa.gov/odi/tsbs/2017/MC-10140011-9999.pdf
---
Bestseller No. 1
Bestseller No. 2
Invisible Glass 99031 Reach and Clean Tool Combo Kit - Window Wand Glass Cleaning Tool for Windshields, Invisible Glass Cleaner for Auto Glass, Clean and Reach Tool for Hard-to-Reach Places
THE ORIGINAL: Trust the original windshield cleaner for reaching tight and difficult spaces at home and in your car. The Reach & Clean tool window wand cleans glass almost effortlessly.
WASHABLE: Simply remove the washable microfiber glass cleaning bonnet and throw it in the wash for a consistent streak-free, lint-free clean that leaves any glass looking new.
REVERSIBLE: Easily reverse the cleaning cloth for even more glass-cleaning power! Enjoy a remarkable clean that other tools simply can't match!
REUSABLE: Why waste time and money with streaky paper towels? Our Invisible Glass cleaner microfiber bonnets are reusable and leave a stunning shine that will make your windows look like new!
EXTENDABLE: The perfect easy glass-cleaning tool for hard-to-reach places. The storage hook can be removed and a standard extension pole can be screwed on to extend your reach, making it effortless to clean glass in high or hard to reach places!
Sale
Bestseller No. 3
Sale
Bestseller No. 4
Invisible Glass 91164 - Cleaner for Auto and Home for a Streak-Free Shine, Deep-Cleaning Foaming Action, Safe for Tinted and Non-Tinted Windows, Ammonia Free Foam Glass Cleaner, 19 oz.
INVISIBLE GLASS CLEANER: See why Invisible Glass Cleaner is the #1 top seller in automotive for window and glass cleaning at home and in the car. Get a superior, brilliant clean that's instantly noticeable.
CLEAR DRY FORMULA: There's no streaks, no drips, and no mess thanks to the Invisible Glass Clear Dry formula. This unique formula contains no streaky soaps, scents, or dyes. Absolutely zero residue is left behind on your glass.
DEEP-CLEANSING FOAM: This unique foam cleanser scrubs deep to remove road grease and grim, bugs, dirt, bird droppings, salt, mud and more from your windshield and mirrors for a striking shine.
TINT SAFE: Invisible Glass cleaner instantly removes even the toughest grease and grime including fingerprints, vape and cigarette haze, and gases released from plastic dashboards. Safe for tinted and non-tinted windows.
FINE MIST CLEAN: This fine mist sprays evenly and fully clings to glass without drips and dribbles, so you get a deep clean that shines from within. It's safe to use both indoors and outdoors!
Bestseller No. 5
Bestseller No. 6
Meguiar's G8224 Perfect Clarity Glass Cleaner - 24 oz.
Unique formula spreads and wipes off quickly with superior cleaning ability to tackle even the dirtiest glass
Anti-hazing formula provides long-lasting clarity
Superior cleaning against bugs, tree sap, vinyl fog, road grime, smokers film, and bird droppings
Professional grade formula provides streek-free clarity to all glass
Safe for use on all tinted windows
Sale
Bestseller No. 7
Bestseller No. 8
Invisible Glass Cleaner and Window Spray for Home and Auto for a Streak-Free Shine. Film-Free Glass Cleaner Safe for Tined and Non-Tinted Windows. Windshield Film Remover, 32 oz.
CLEAR DRY FORMULA: The Invisible Glass CLEAR DRY formula contains no streaky soaps, scents, or dyes. Absolutely ZERO residue on your glass - just invisible glass.
CONVENIENT SPRAY BOTTLE: This 32 oz. spray pump bottle makes it easy to squeeze out every drop of glass cleaner for a brilliant shine on all glass surfaces.
AMMONIA-FREE: Our unique Invisible Glass formula contains no ammonia, so it's perfect for use on tinted and non-tinted glass. Use it at home, on stainless steel appliances, in the car, on the boat, at the office, and more.
MADE IN USA: Proudly American-made, you can trust the quality and superior formula of this glass cleaner and window spray. It's the best super window cleaner you can buy.
MONEY-BACK GUARANTEE: If you're not completely satisfied with the performance of Invisible Glass Cleaner, simply let us know for a prompt and cheerful refund, guaranteed!
Bestseller No. 9
Bestseller No. 10
3M 08888 Glass Cleaner 19 Oz
Aerosol application for all glass surfaces
May be used on automotive vinyl and interior plastic
No drip foaming action - clings to vertical surafces and streak-free shine
Streak-free formula puts the sparkle and shine back into automotive glass
Cuts through stubborn grit and grime on windshields and windows
Last update on 2019-04-19 / Affiliate links / Images from Amazon Product Advertising API
Last update on 2019-04-19 / Affiliate links / Images from Amazon Product Advertising API