NUMBER: 22-001-15
GROUP: Tires and wheels
DATE: January 30, 2015
THIS SERVICE BULLETIN IS ALSO BEING RELEASED AS RAPID RESPONSE TRANSMITTAL (RRT) 15-017. ALL APPLICABLE SOLD AND UN-SOLD RRT VIN's HAVE BEEN LOADED. TO VERIFY THAT THIS RRT SERVICE ACTION IS APPLICABLE TO THE VEHICLE, USE VIP OR PERFORM A VIN SEARCH IN TECHCONNECT. ALL REPAIRS ARE REIMBURSABLE WITHIN THE PROVISIONS OF WARRANTY.
SUBJECT:
Incorrect Tire Pressure Sensor
OVERVIEW:
This bulletin involves inspecting and replacing tire valve stems and Tire Pressure Monitor (TPM) sensors, if required.
MODELS:
NOTE: This bulletin applies to vehicles built on or after July 21, 2014 (MDH 0721XX) or built on or before December 1, 2014 (MDH 1201XX) equipped with Scat Pack Badging (Sale Codes ARH).
SYMPTOM/CONDITION:
Vehicles included on the RRT VIN list may have been built with the incorrect valve stems and TPM sensors.
DIAGNOSIS:
Using a Scan Tool (wiTECH) with the appropriate Diagnostic Procedures available in TechCONNECT, verify If any DTCs are set. If DTCs are present, record them on the repair order and repair as necessary before proceeding further with this bulletin.
If a customer's VIN is listed in VIP or your RRT VIN list, perform the repair.
PARTS REQUIRED:
SPECIAL TOOLS/EQUIPMENT REQUIRED:
REPAIR PROCEDURE:
Inspect all of the wheel valve stems, are any of the valve stems, rubber? (Fig. 1).

Yes >>> Replace all of the valve stems, proceed to Step #3.
No >>> If all of the valve stems are steel ( 2), Proceed to Step #2.
NOTE: The valve stem and/or sensor on the spare tire is NOT included with this service action, if equipped.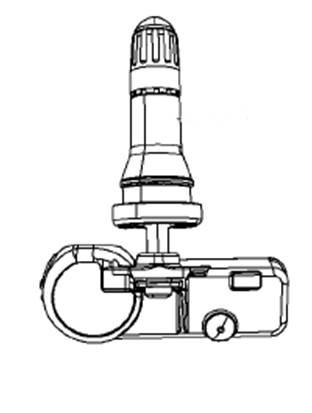 Fig. 1 Rubber Valve Stem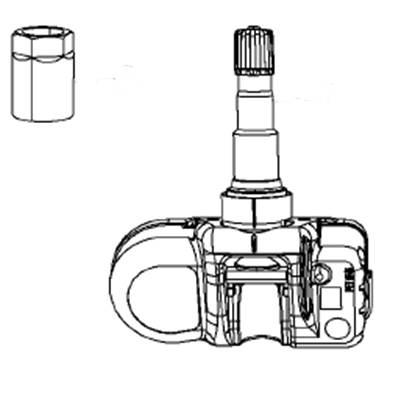 Fig. 2 Steel Valve Stem
This document has been completed, use the inspection LOP 22-14-01-90 to close the active RRT.
Remove the TPM sensors and valve stems following the procedure in TechConnect, 22 – Tires and Wheels/Tire Pressure Monitoring/SENSOR, Tire Pressure Monitoring (TPM)/Removal NON SRT8
Install the new sensors and valve stems following the procedure in TechConnect 22 Tires and Wheels/Tire Pressure Monitoring/SENSOR, Tire Pressure Monitoring (TPM)/Installation SRT8
Before installing the tires on the vehicle, make sure they are properly balanced.
Using the TPM-RKE Analyzer Tool, select TPM Functions, then enter the Model Year and the Body Style of the vehicle, and for the Trigger Selection select PARK SENSOR.
NOTE: If a TPM-RKE Tool is not available, let the vehicle sit stationary for more then 20 minutes, and then drive the vehicle for a minimum of 10 minutes while maintaining a continuous speed above 24 km/h (15 mph).
Scan each TPM sensor at each road wheel, and record each TPM sensor ID and the location of that sensor.
In wiTech go to the TPM section, select Misc Function then Program Tire sensor ID.
Enter each sensor ID in it's proper location.
Clear any DTCs that may have been set in any modules due to this repair procedure.
POLICY:
Reimbursable within the provisions of the warranty.
TIME ALLOWANCE:
| | | | |
| --- | --- | --- | --- |
| Labor Operation No: | Description | Skill Category | Amount |
| 22-14-01-90 | Sensors/valve, Tire Pressure, Inspect (1 – Semi-Skilled) | 4 – Chassis Systems | 0.2 Hrs. |
| 22-14-01-91 | Sensors/valve, Tire Pressure, Replace (1 – Semi-Skilled) | 4 – Chassis Systems | 1.4 Hrs. |
FAILURE CODE:
22-001-15