NUMBER: 23-025-16
GROUP: Body
DATE: June 09, 2016
THIS BULLETIN SUPERSEDES SERVICE BULLETIN 23-019-15, DATED MAY 22, 2015, WHICH SHOULD BE REMOVED FROM YOUR FILES. ALL REVISIONS ARE HIGHLIGHTED WITH **ASTERISKS** AND INCLUDE ADDITIONAL MODEL YEAR, BUILD DATES AND LABOR OP.
THIS SERVICE BULLETIN IS ALSO BEING RELEASED AS RAPID RESPONSE TRANSMITTAL (RRT) 16-054. ALL APPLICABLE SOLD AND UN-SOLD RRT VIN's HAVE BEEN LOADED. TO VERIFY THAT THIS RRT SERVICE ACTION IS
APPLICABLE TO THE VEHICLE, USE VIP OR PERFORM A VIN SEARCH IN TECHCONNECT. ALL REPAIRS ARE REIMBURSABLE WITHIN THE PROVISIONS OF WARRANTY.
SUBJECT:
Discolored Door Hinge Nuts
OVERVIEW:
This bulletin involves replacing all the lower nuts on the side upper and lower door hinges.
MODELS:
NOTE: **This bulletin applies to 16 MY vehicles built on or after May 02, 2016 (MDH 0502XX) and on or before May 06, 2016 (MDH 0506XX).**
NOTE: This bulletin applies to 15 MY vehicles built on or after May 06, 2015 (MDH 0506XX) and on or before May 07, 2015 (MDH 0507XX).
SYMPTOM/CONDITION:
The customer may describe discoloring or rust from the lower nut securing the doors to the hinges.
DIAGNOSIS:
If a customer's VIN is listed in VIP or your RRT VIN list, perform the repair on all side doors.
Some lower nuts for the side door hinges may have been installed without the plating (1) process to the nut. New plated nuts (2) will have a slight shine or low gloss (Fig. 1).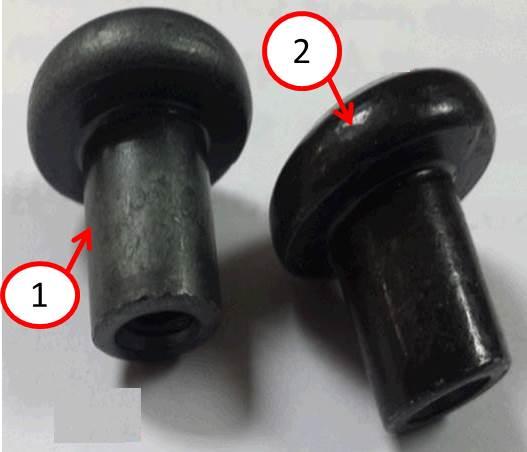 Fig. 1 Door Hinge Nuts
1 – Non Plated Nut
2 – Plated Nut
---
PARTS REQUIRED:
| | | |
| --- | --- | --- |
| Qty. | Part No. | Description |
| (AR) | 06511744AA | nut, door hinge |
REPAIR PROCEDURE:
REMOVAL
Remove the door hinge lower nuts (one hinge at a time only) and discard the nut (Fig. 2).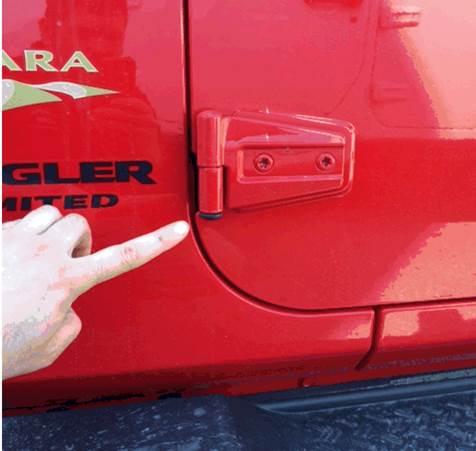 Fig. 2 Door Hinge Nut Location
Install the new nut for each hinge and tighten to 8.5 N·m (75 in. lbs.).
POLICY:
Reimbursable within the provisions of the warranty.
TIME ALLOWANCE:
| | | | |
| --- | --- | --- | --- |
| Labor Operation No: | Description | Skill Category | Amount |
| **23-40-15-91 | Nut, Lower Door Hinge – Replace All (1 – Semi-Skilled) | 6 – Electrical and Body Systems | 0.2 Hrs.** |
FAILURE CODE:
---
23-025-16

---