NUMBER: 08-071-17
GROUP: 08 – Electrical
DATE: August 10, 2017
THIS BULLETIN SUPERSEDES SERVICE BULLETIN 08-054-16, DATED APRIL 29, 2016, WHICH SHOULD BE REMOVED FROM YOUR FILES. ALL REVISIONS ARE HIGHLIGHTED WITH **ASTERISKS** AND INCLUDES UPDATED MARKET INFORMATION, ADDITIONAL SYMPTOMS/CONDITIONS, IMPROVEMENTS, UPDATED SOFTWARE LEVEL, ADDING REPAIR STEPS, ADDING FIGURES, ADDING NOTES, LOPS, TIME TO UPDATE AND UPDATED FAILURE CODE STATEMENT.
THE wiTECH SOFTWARE IS REQUIRED TO BE AT THE LATEST RELEASE BEFORE PERFORMING THIS PROCEDURE.
SUBJECT:
RA3 RA4 Radio Enhancements
OVERVIEW:
This bulletin involves inspecting and updating the radio software, if required.
MODELS:
NOTE: This bulletin applies to vehicles within the following markets: NAFTA**(Canada and Mexico only).**
NOTE: This bulletin applies to vehicles equipped with one of the following radios:
Uconnect 8.4A AM/FM/BT/ACCESS (Sales Code RA3).
Uconnect 8.4AN AM/FM/BT/ACCESS/NAV (Sales Code RA4).
SYMPTOM/CONDITION:
A customer may experience one or more of the following conditions:
**"Navigation Failed" message is displayed.
Navigation is inoperative or inaccurate.
CD player will not play songs and/or locks up the radio.
Clock will not automatically update to local time.
Clock may be off by several hours. (RA3 Only).
Some Uconnect App remote commands do not execute with the vehicle.
Radio Apps are inoperative.
Adds Apple SiriT Eyes Free capability for iPhoneT
Auto Play can now be configured.
Radio will lock up.
Radio display screen is black or blank.
Track names may be displayed twice in USB or SD media modes.
SD, USB or BTSA modes may become non-functional for a given ignition cycle.
Duplicate song titles may be displayed in USB mode.
Last track is displayed but next track is being played.
Navigation function may resets itself after using One-Shot VR.
Intermittently the Global Positioning System (GPS) may lose its location for a short time and causes routing and positioning concerns.
GPS and Internal cellular device may become inoperative and causes a loss of GPS and cellular functions.
A false Pop-up message may appear "Vehicle Phone Requires Service" even though the vehicle's phone works properly.
Back-up camera image may be unclear or jittery/stutters at times.
Mute button status was not being displayed correctly.
Presets where not shown correctly or were deleted.
Park Sense tone continuously on.
Navigation may not start or may lose position.
Rear camera may show a black screen for 3 seconds upon going to reverse.
iPod would not resume playing after a VR session or phone call.
Radio reset, screen lockup, blank screen or sluggish system response time.
Compass indicator turns off.
Touch screen shut down message.
Radio surround sound will not stay ON.
Driver memory feature causes Sirius XM failure.
Loss of radio presets.
Uconnect apps do not load.
AM/FM popping noises and/or static.
Backup camera display is blank.
Compass direction may be incorrect.
Vehicle's Icon changes on the navigation map.
Loss of vehicle position on NAV map.
"Vehicle Phone Requires Service" message appears on 8.4" screen.
Nav text overlaps in detour menu.
Navigation shows vehicle in San Antonio, TX.
Screen only displays startup Logo.
Screen half black half white after update.
Radio locked up after attempting to update with a corrupted or incorrect USB flash drive.
Phone/Navigation overlay screen freeze (WK only).
Heated seat controls through radio do not function/display correctly during startup.
Speed controlled volume not functioning correctly.
Steering Wheel Control operation corrected at startup.
Tuner mutes on startup.
HD now defaults to 'OFF' for reduced complaints about 'channel switching' .
"LO" temps displayed upon each vehicle start.
Human Machine Interface (HMI) Lock up in SXM mode after ignition cycle.
Point of interest screen locks up.
Error message when plugging in iPod.
Balance/fade setting changes after ignition cycle.
Rear climate control display frozen.
Translation enhancements.
Erratic pop ups in HMI.
Audio control locked after using VR feature.
Improvements:
**Adds Apple Siri Eyes Free capability for iPhone owners.
Add the ability to drag and drop icons into the menu bar.
Enhanced VR performance.
Media devices, phone pairing and Bluetooth usage improvements.
Improved tuner performance.
Enhancements in Connectivity Apps (Yelp, Pandora, Aha, etc).
HMI improvements.
Adds "do not disturb" text message feature.**
Ability to communicate with Siri via UConnect.
Ability to press VR button for more than one second.
Travel link enhancements.
Phone quality and pairing enhancements.
Blue tooth, phone, iPod, auto streaming, connecting/disconnecting enhancements.
Added Teleprompter.
Clock enhancements.
Phone book enhancements.
VR enhancements.
Nav turn-by-turn enhancements.
Nav map guidance enhancements.
Enhancement made when video is display in radio when using PAL format video disks.
Corrected the temperature slider bar not updating on Manual Temperature Control vehicles.
Enhancements for iPod or iPhone devices that may not start playing after connecting.
Enhancement to navigation routing.
Enhancements to Point Of Interest (POI).
Able to adjust audio balance / fade settings during a VR session.
Correct condition where user could not exit screen off mode.
DIAGNOSIS:
Using a Scan Tool (wiTECH) with the appropriate Diagnostic Procedures available in
TechCONNECT, verify all related systems are functioning as designed. If Diagnostic Trouble Codes (DTCs) or symptom conditions, other than the ones listed above are present, record the issues on the repair order and repair as necessary before proceeding further with this bulletin.
If the customer describes one or more of the symptom/conditions listed above, perform the Repair Procedure.
REPAIR PROCEDURE:
Has the USB flash drive been created?

Yes >>> Proceed to Step 5.
No >>> Proceed to Step 2.
**Two files will be loaded onto the USB flash drive (Fig. 1) .**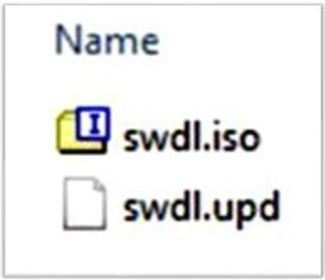 Fig. 1
**Two USB Files.**
NOTE: A blank USB flash drive

must be used to download the software. Only one software update can be used on one USB flash drive.
NOTE: If the dealer cannot download the software, make sure you have proper security access. If not, have the Service Manager or Shop Foreman download the software update.
If a securely message appears "Do you want to view only the web page content that was delivered securely?" press "NO" to continue, see (Fig. 2) .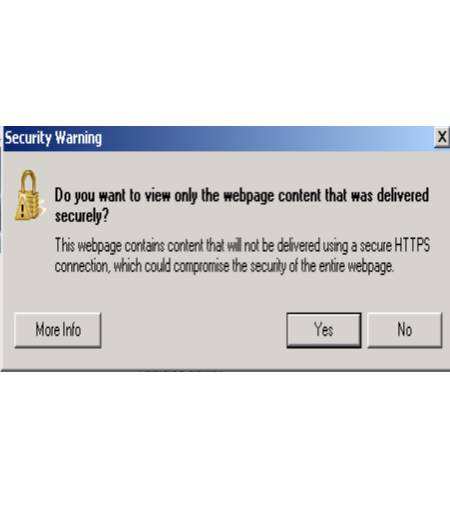 Fig. 2 Pop-up Security Message
If this Pop-up appears, select "NO" to continue.
---
With the engine running and radio powered on, insert the correct USB flash drive with new software into USB hub.
The next screen display will have the old and new software levels. The radio will be updated to **17.11.07**.
**Is the current radio software level at or higher than 17.11.07?

Yes>>> This bulletin does not apply. Normal diagnostic should be performed.
No >>> Proceed to Step 8.**

Press the soft key "Yes" to start the update.
NOTE: ** If the software update process is interrupted, aborted or failed, the process should be restarted. See Star Online Cases if the radio failed to update, or is stuck in 'update mode' displaying "Insert Update USB" and if so, re-insert the USB.**
NOTE: Do not cycle the ignition or touch the radio during the update process.
The update may take **60 minutes,** no other actions will be needed.
NOTE: **During the update process you will see multiple hourglass and "Please Insert
Update USB" screens for extended periods of time (several minutes) (Fig. 3) or (Fig. 4) . DO NOT remove the USB flash drive at this time. Only remove the USB flash drive when the update has completed, when the screen displays the software levels again. The screen will say "Software updated successfully".**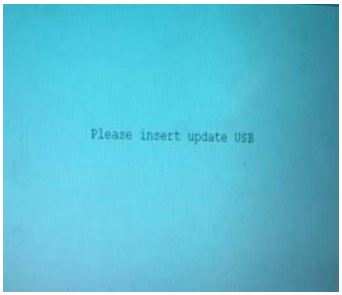 Fig. 4
**Please Insert Update USB**
After the update is done, the screen will display the software levels again, see (Fig. 5) .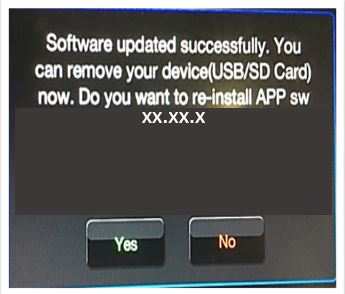 Fig. 5
**Software Updated Successfully**
NOTE: DO NOT remove the USB at any point of the update process until the final software levels match.
Press "No" and turn off the vehicle. Open and close the driver's door and let the Bus go to sleep.
NOTE: Make sure to leave ignition off, do not press the brake, and do not reopen any doors, so the modules will go to sleep.
Cycle the ignition one more time, turn the ignition on, then back off. Open and close the drivers door and let the Bus go to sleep. This will complete the radio update.
Remove the USB flash drive. This bulletin has been completed.
NOTE: **NOTE: Updating the radio's software may cause the radio to reset back to factory default setting. The customer should be advised that they may need reset the personal settings, theme, color, presets, favorites and the phones may need to be paired again.**
POLICY:
Reimbursable within the provisions of the warranty.
TIME ALLOWANCE:
Labor Operation No:Description
Skill Category
Amount
**18-60-02-NA
Radio, Check Software Level and Perform Software Update (0 – Introduction)
6 – Electrical and Body Systems
1.0 Hrs.
18-60-02-NB
Radio, Software – Create USB flash drive, From CD or Uconnnect Website (One Time Only) (0 – Introduction)
6 – Electrical and Body Systems
0.3 Hrs**
NOTE: The "One Time Only" LOP is used one time per dealer when downloading the software onto a USB flash drive. The dealer can only use the download LOP, one time for each of the radios.
NOTE: The expected completion time for the flash download portion of this procedure is approximately **60 minutes.** Actual flash download times may be affected by vehicle connection and network capabilities.
FAILURE CODE:
**The dealer must use failure code CC with this Service Bulletin.
If the customer's concern matches the SYMPTOM/CONDITION identified in the Service Bulletin, failure code CC is to be used.
When utilizing this failure code the 3C's (customer's concern, cause and correction) must be provided for processing Service Bulletin flash/reprogramming conditions.**
---
08-071-17

---
https://chrysler.oemdtc.com/344/uconnect-updates-chrysler-dodge-ram-jeep-fiat
Bestseller No. 1
SanDisk 128GB Ultra Flair USB 3.0 Flash Drive - SDCZ73-128G-G46
High-speed USB 3.0 performance of up to 150MB/s(1) [(1) Write to drive up to 15x faster than standard USB 2.0 drives (4MB/s); varies by drive capacity. Up to 150MB/s read speed. USB 3.0 port required. Based on internal testing; performance may be lower depending on host device, usage conditions, and other factors; 1MB=1,000,000 bytes]
Transfer a full-length movie in less than 30 seconds(2) [(2) Based on 1.2GB MPEG-4 video transfer with USB 3.0 host device. Results may vary based on host device, file attributes and other factors]
Transfer to drive up to 15 times faster than standard USB 2.0 drives(1)
Sleek, durable metal casing
Easy-to-use password protection for your private files(3) [(3)Password protection uses 128-bit AES encryption and is supported by Windows 7, Windows 8, Windows 10, and Mac OS X v10.9 plus; Software download required for Mac, visit the SanDisk SecureAccess support page]
Bestseller No. 2
SamData 32GB USB Flash Drives 2 Pack 32GB Thumb Drives Memory Stick Jump Drive with LED Light for Storage and Backup (2 Colors: Black Blue)
[Great Value Package Offer]: 2 Pack USB 2.0 Flash Drive 32GB Available in 2 different colors - Black and Blue. The different colors can help you to store different content.
[Plug and Play]: No need to install any software, Just plug in and use it. The metal clip rotates 360° round the ABS plastic body which. The capless design can avoid lossing of cap, and providing efficient protection to the USB port.
[Compatibilty and Interface]: Supports Windows 7 / 8 / 10 / Vista / XP / 2000 / ME / NT Linux and Mac OS. Compatible with USB 2.0 and below. High speed USB 2.0, LED Indicator - Transfer status at a glance.
[Suitable for All Uses and Data]: Suitable for storing digital data for school, business or daily usage. Apply to data storage of music, photos, movies, software, and other files.
[Warranty Policy]: 12-month warranty, our products are of good quality and we promise that any problem about the product within one year since you buy, it will be guaranteed for free.
Bestseller No. 3
Amazon Basics 256GB Ultra Fast USB 3.1 Flash Drive
256GB ultra fast USB 3.1 flash drive with high-speed transmission; read speeds up to 130MB/s
Store videos, photos, and songs; 256 GB capacity = 64,000 12MP photos or 978 minutes 1080P video recording
Note: Actual storage capacity shown by a device's OS may be less than the capacity indicated on the product label due to different measurement standards. The available storage capacity is higher than 230GB.
15x faster than USB 2.0 drives; USB 3.1 Gen 1 / USB 3.0 port required on host devices to achieve optimal read/write speed; Backwards compatible with USB 2.0 host devices at lower speed
Stylish appearance,retractable, telescopic design with key hole
Bestseller No. 8
USB Stick USB Flash Drive 1TB Thumb Drive 1000GB USB Memory Stick Jump Drive Pen Drive Zip Drive Photo Stick with Keychain
Large Capacity: 1000GB metal usb memory stick suitable for storing digital data for school, business or daily usage.
Strong Compatibility: Support windows 7 / 8 / 10 / Vista / XP / 2000 / ME / NT Linux and Mac OS, compatible with USB 2.0 and below.
Easy to Use & Carry: Plug and play usb memory stick, no need to install any software. The memory stick comes with a key ring which helps you to connect it with your keychain, bag or purse.
Durable: The metal casing provides you protection against dust, water and temprature and it's also shock resistant.
Friendly Customer Service: If you have any question please contact us, we will response with a solution no more than 24 hours.
Bestseller No. 9
USB 3.0 Flash Drive 982GB Memory Stick High Speed Thumb Drive Metal USB Drive Waterproof USB Flash Drive Portable USB Stick for Laptop/Tablet/Computer, with Keychain (982gb)
[Huge Space to Store]: With 982gb storage capacity, the USB flash drive contains an enormous space for data storing including documents, software, applications and media files like movies, songs and images. It assures you of the daily data storage without worry.
[Speedy and Portable]: The flash drive is an excellent tool for studying and working, and it is portable due to its small size and keychain design. What's more, it transfers and stores data files quite fast and smooth with the USB 3.0 high performance.
[Powerful in Compatibility]: The wide compatibility of USB drive enables it to transfer and store data among different electronic devices with USB interface, such as computer, tablet, laptop, car audio, speaker and etc, which has clearly increased the usage frequency.
[Durable & Waterproof]: The thumb drive owns a long service life due to its powerful resistance performance to damages like pressure, knock, water, dust, X-ray, magnet, extreme temperature and other harsh conditions. It is durable and secures your data files well.
[Ideal Gift with Simple Usage]: The USB stick is an ideal and optimal gift for family, friends and colleagues on festivals like Thanksgiving and Christmas. It is indispensable to our daily life with simple usage, just plug it into compatible devices and it will react instantly to your needs.
Bestseller No. 10
SanDisk 256GB Ultra Fit USB 3.1 Flash Drive - SDCZ430-256G-G46
A compact, plug-and-stay, high-speed USB 3.1 flash drive that's ideal for adding more storage to laptops, game consoles, in-car audio and more
Simple, fast way to add up to 256GB of storage to your device [1GB=1,000,000,000 bytes - Actual user storage less]
Read speeds up to 130MB/s(1) [(1) Write to drive up to 15X faster than standard USB 2.0 drives (4MB/s); USB 3.1 Gen 1 or USB 3.0 port required. Based on internal testing; performance may be lower depending on host device; 1MB=1,000,000 bytes]
Write up to 15X faster than standard USB 2.0 drives(1)
Move a full-length movie to the drive in less than 30 seconds(2) [(2) Based on 1.2GB MPEG-4 video transfer with USB 3.1 Gen 1 or USB 3.0 host device; Results may vary based on host device, file attributes and other factors]
Last update on 2023-01-19 / Affiliate links / Images from Amazon Product Advertising API
This product was presentation was made with AAWP plugin.