NUMBER: 08-025-16
GROUP: Electrical
DATE: March 04, 2016
THIS BULLETIN SUPERSEDES SERVICE BULLETIN 08-088-15, DATED SEPTEMBER 19, 2015, WHICH SHOULD BE REMOVED FROM YOUR FILES. ALL REVISIONS ARE HIGHLIGHTED WITH **ASTERISKS** AND INCLUDES ADDITIONAL MODEL YEAR, SYMPTOM/CONDITION, NEW SOFTWARE AND LABOR OPERATION.
THIS SERVICE BULLETIN IS ALSO BEING RELEASED AS RAPID RESPONSE TRANSMITTAL (RRT) 14-025. ALL APPLICABLE SOLD AND UN-SOLD RRT VIN's HAVE BEEN LOADED. TO VERIFY THAT THIS RRT SERVICE ACTION IS APPLICABLE TO THE VEHICLE, USE VIP OR PERFORM A VIN SEARCH IN TECHCONNECT. ALL REPAIRS ARE REIMBURSABLE WITHIN THE PROVISIONS OF WARRANTY.
SUBJECT:
Flash: RA3 Radio Software Enhancements
OVERVIEW:
This bulletin involves updating the radio software.
MODELS:
| | | |
| --- | --- | --- |
| 2014 – **2016** | (BF) | Fiat 500L |
NOTE: This bulletin applies to vehicles built on or before **February 05, 2016 (MDH 0205XX)** equipped with UConnect 6.5 AM/FM/BT/Voice (Sales Code RA3).
SYMPTOM/CONDITION:
The customer may experience one or more of the following:
**Under MORE screen, the compass always indicates a fixed position and will not change while vehicle is in motion. The direction is different at every ignition cycle.**
Display screen may lock up during very hot ambient temperatures.
Rear camera unintentionally switches off and display screen turns blue.
Radio resets.
Radio sluggish performance.
Bluetooth dropped connections.
Hands free calling poor sounding.
Navigation GPS off location.
No GPS intermittently.
Voice recognition poor.
Remove SAT button (soft key) on a vehicle that is not equipped with Sirius Satellite. 08-025-16
Vehicles equipped with SDARS (Satellite) and No SDARS (No Satellite) may have a fast reset condition of the radio while the navigation system is active.
DIAGNOSIS:
If a customer's VIN is listed in VIP or your RRT VIN list, perform the repair. For all other customers that describe the symptom/condition, perform the Repair Procedure.
REPAIR PROCEDURE:
Has the USB flash drive been created?

Yes >>> Proceed to Step #4.
No >>> Proceed to Step #2.
CAUTION: Discard any old USB flash drives (7.2.2 SW Build 13.49.0 stick).
Go to DealerCONNECT> Service> UCONNECT Information & Utilities> Uconnect Dealer software downloads to down load the files.
If a securely message appears "Do you want to view only the web page content that was delivered securely?" press "NO" to continue.
NOTE: A blank USB flash drive

must be used to download the software. Only one software update can be used on one USB flash drive.
NOTE: If the dealer cannot download the software, make sure you have proper security access. If not have the service manager or shop foreman download the software update.
NOTE:    
Turn the engine on and check if the vehicle is still in Ship Mode.
The vehicle must be in Customer Mode to update the radio. Is the vehicle in Ship Mode?

Yes >>> Proceed to Step #6.
No >>> Proceed to Step #7.

Use the scan tool wiTECH to put the vehicle into Customer Mode.
With the engine running and radio powered on, insert the correct USB flash drive into USB hub.
The next screen display will have the old and new software level. The radio will be updated to version **15.43.00.**
Is the current software level at or higher than **15.43.00?**

Yes >>> The bulletin does not apply. Perform normal diagnostics.
No >>> Proceed to Step #10.
NOTE: Use inspection LOP 18-60-02-HL to close an active RRT.
NOTE: Do not cycle the ignition or touch the radio during the update process.
Press the soft key "Yes" to start the update.
The update may take approximately 11 minutes, no other actions will be needed.
NOTE: If the software update process is interrupted/aborted, the process should be restarted.
During the software update process, the radio will reset itself once to finish FrontController update.
After reset, check software version: Press Hard Key Settings -> System Information toshow Software version **15.43.00.**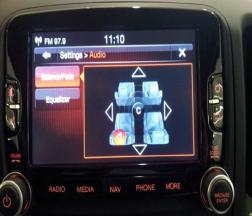 Fig. 1 Radio
---
Turn ignition OFF and wait 30+ seconds to let the CAN bus go to full sleep.
NOTE: To help put the Bus to sleep quicker, remove the key from the ignition, open and close the driver door and make sure the wiTECH is not connected.
Turn ignition ON to check speak icon position again.
Turn ignition OFF and wait 30+ seconds to let the CAN Bus go to full sleep.
Turn ignition ON and wait 30+ seconds to let radio fully boot up.
Turn ignition OFF and wait 30+ seconds to let the CAN Bus go to full sleep.
NOTE: Use the wiTECH to put the vehicle back into Ship Mode if required.
POLICY:
Reimbursable within the provisions of the warranty.
TIME ALLOWANCE:
| Labor Operation No: | Description | Skill Category | Amount |
| --- | --- | --- | --- |
| 18-60-02-HL | Radio, Check Software Level (0 – Introduction) | 6 – Electrical and Body Systems | 0.2 Hrs. |
| **18-60-02-JF | Radio, Check Software Level and Perform Software Update (0 – Introduction) | 6 – Electrical and Body Systems | 0.4 Hrs.** |
| 18-60-02-HN | Radio, Software – Create USB Flash Drive From Uconnect Website (One time only) (0 – Introduction | 6 – Electrical and Body Systems | 0.2 Hrs. |
NOTE: The "One Time Only" LOP is used one time per dealer when downloading the software onto a USB flash drive.
FAILURE CODE:
The dealer must choose which failure code to use. If the customer came in with an issue and the dealer found updated software to correct that issue, use failure code CC, for all other use failure code RF.
If the customer's concern matches the SYMPTOM/CONDITION identified in the Service Bulletin, failure code CC is to be used.
If an available flash is completed while addressing a different customer concern, failure code RF is to be used.
| | |
| --- | --- |
| CC | Customer Concern |
| RF | Routine Flash |
---
---

Price Disclaimer